•Celebrates late Gen. Yar'Adua with S/Leonian President, Ciroma, Onyia, others
By Levinus Nwabughiogu
Former President Olusegun Obasanjo has declared that the struggle to bequeath a better country was not over yet.
He said that for him, the country was just at the centre of the struggle.
Obasanjo's declaration is coming at the thresholds of another round of elections in Nigeria whose ambience had already permeated the country. The former president who spoke at 20 years memorials of his former deputy as the Head of Military government, Late Gen. Shehu Musa Yar'Adua in Abuja on Friday said that the struggle to make Nigeria a better nation consumed the life of his former friend and ally.
Recalling the scintillating life and times of the late Yar'Adua, Obasanjo who graced the event in the company of the President of Sierria Leone, Mr. Ernest Bia Koroma vowed to continue living in the ideals and visions of his former deputy until the dreams were achieved.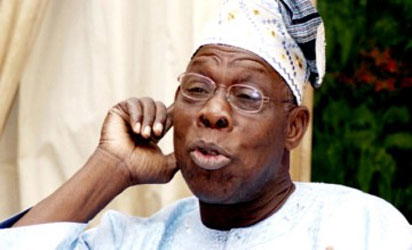 The event was organized by Shehu Musa Yar'Adua Foundation which has Obasanjo as its chairman.
He said: "What's is life? Those of us who knew Shehu very well knew the type of man he was, the type of life he lived, his commitment to his family, religion, nation and friends. And then you ask the question what is life? I think Shehu Yar'adua's life typifies the answer to that question. How he lived his life gave us eloquent answer to what life is. And that is also evident from what we have seen here today. Twenty years after Shehu had passed on, we are here with his memory still green and fresh in all of us. I could not have had a better deputy than Shehu Yar'Adua when I was military head of State. We shared some interesting times together. Let me tell you a few of the times that are interesting.
"One day I had cold and the doctor came to see me. I said to the doctor, supposing this cold decide to take my life, as you came here now, what will you do. He said, I will try first aid on you and I will do what I need to do to revive you. I said if you try that and it didn't work, he said then, I will call the Chief of Staff. And as he said that, Shehu came in and I said, look at him coming in.
"Shehu came in, I told him what the doctor said and asked him what he will do. He said I will kick you with my leg…and say get up. You are not going away. This is your job. That's the sort of the interesting times we had.
"We had also difficult times together but we had to put our heads together. How did we handle the issue of transition? How did we move Nigeria forward, implement our programme? We worked together and succeeded in doing what I believed was right for the country at the time. We handed over a democratically elected government.
Set up a grassroots party
"A few years after that, Shehu came to me and said, he was going to set up a grassroots party. I said a grassroots party? He said from my study and everything, I realize that Nigeria has not really had a truly grassroots party. Not even NEPU which was the best that we have had. Then I asked, was there anything you wanted us to do when we were in government that we did not do? He said no and I said good. If that is the case, I pray that this grassroot party that you want to set up will succeed. He said Amen. And I said do you want to use the grassroots party to get into power? He said not really but if that turns out to be the case, would you tell me not to? I said if that turns out to be the case, I will be very happy.
"Well, some members of that party are here today. I was not a member. Since Shehu's departure, they have remained loyal to Shehu's ideals and what he stood for.
Arrest of Shehu
"When Shehu was first arrested, I was out in South Africa. And I rushed back home and asked the man who arrested him. And the man who arrested him said to me, he did not know that Shehu had been arrested. And I said Mr. Head of State, say that to the marines. There is no way the number two man in this country at one time will be arrested without the knowledge of the current number one man. Shehu was released thereafter. But he was released only for a short while. When he was arrested the second time, I was arrested along with him. We were kept in separate locations but after ; a verdict had been given about what would happen to us, we met in Kirikiri. That was the last time we actually stayed together. We had about three times that we were able to speak and think in. Maximum Prison.
In Prison
"Even in prison, we strategised together. Unfortunately, our strategy did not work. But when Shehu died in prison, my international friends decided that they would use a commando plan to get me out of prison. They actually did it. They made the plan. And their plan was to use a helicopter to take me out of Yola prison. Then they sent message to me and I said if you do, I will not get out of prison. And that was when they dropped the idea of using commando effort to get me out of prison. That would have defeated what we stood for. We stood for Nigeria. And we stood for whatever consequences standing for Nigeria will cost us. It caused Yar'Adua his life.
What we stood for
"Those of us who believed in what Shehu Yar'Adua believed in that are still alive, the only thing we can do is to allow the struggle to continue. And we are not at the end of the struggle yet. If anything, we are still in the middle of this struggle. As he said to his son, we want to bequeath to our children and our children's children a country that we can be proud of. We are not there yet. May God make us get there".
Also speaking, the Sierra Leonian President, Koroma described Yar'Adua as a great African soldier and politician whose memories would not be forgotten.
"We have gathered here in memory of a great African. Yar'Adua was greatly loved by so many people. He came, played his part and transitioned. Though, we are greatly saddened by his passage, we are consoled by his exemplary life. He was a great soldier and politician. He put the interest of this nation first and foremost. His loving memories should help you smile again. His memories will never be forgotten", he said.
In his welcome remarks, former Minister of Foreign Affairs and Member, Board of Trustees of Shehu Musa Yar'Adua Foundation, Chief Debum Onyia said that Yar'Adua paid the supreme price for the cause he stood and fought for.
"The democracy, peace and tranquilly that Nigeria enjoys today could not have been possible if Shehu Yar'Adua had not put in place a mechanism and laid the solid foundation for a political structure to establish and consolidate enduring democracy in this country. Shehu believed in a united Nigeria built on people rather than territory. A country in which where you come from or your religion does not matter but where our faith and passport matters.
"We must be able to do for ourselves, according to Shehu what others cannot do for us in this country. His faith and belief in this country is undiluted. Without being immodest, no political leader dead or alive in this country, not even our founding fathers, has ever garnered and developed political associates that Shehu did. We believe in his ideology and legacy.
"Shehu Yar'Adua paid the supreme price for what he believed in, a better and united Nigeria", he said.
Also giving paying a tribute to the deceased, former Military Administrator of Oyo State, Major-Gen. Paul Tafa (rtd) said that Yar'Adua was a complete gentleman.
He said: "For me, I can a lot to say but time will not permit me. We started in 1961 after school certificate. It so happened that we sat on the same bench. We got talking and discovered that we shared the same principles.
"As an officer, I found him to be a smooth going gentleman. He knew very much how to choose a good team. He had friends in all walks of life."
For the former minister of Finance, Mallam Adamu Ciroma, the late Yardua was an embodiment of humility.
"Shehu was an embodiment of humility, courage and above all he played politics of inclusion. No wonder he was described a bridge-builder. He gave his best to this country", he said.
Similarly, Mr. Patrick Dele-Cole, Former Nigeria's Ambassador to Brazil, Yar'dua died a true martyr.
"He was a wonderful man who was cut down in his prime. I had no doubt he would have made a good president of Nigeria. He died a true martyr. He was extraordinarily blunt but mostly polite even though he was blunt", he said.
Others who also paid glowing tributes to Yar'Adua included the son of Chief MKO Abiola and former Chairman of Habib Bank, Mr. Kola Abiola and Emir of Gwandu, Major Gen. Muhammadu Bashar (rtd) amongst others.
The occasion also attracted the presence of former Governors of Cross River and Anambra States, Mr. Donald Duke and Mr. Peter Obi; former Minister of Aviation, Mr. Osita Chidioka amongst other dignitaries.
Source: Vanguard News
The struggle for better Nigeria not over yet — Obasanjo