ABUJA—THE Supreme Court on Monday fixed March 2, for judgment on an appeal by former National Security Adviser, NSA, Col. Sambo Dasuki, challenging his alleged indefinite detention.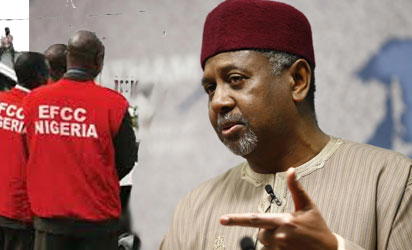 The panel of five Justices, led by Dattijo Mohammed, gave the date after counsels to the parties in the case adopted their addresses.
The ex-NSA had on June 15, 2016 at the Court of Appeal in Abuja, lost his bid to enforce his freedom after securing bails on all the charges against him.
The News Agency of Nigeria, NAN recalls that Dasuki is standing trial for allegedly mismanaging 2.1 billion dollars meant for purchase of arms to fight the Boko Haram insurgents.
Dasuki's counsel, Mr Joe Daudu, argued that the decision of the Court of Appeal was erroneous, adding that it was incumbent on the Supreme Court to restore the integrity of all courts.
Daudu submitted that it was out of place for the court of appeal to scuttle the fundamental rights of a citizen after well-considered decisions of four courts that admitted the applicant to bail.
He said that his client needed the bail to prepare his defence, adding that he could not have access to security documents while in detention.
"My Lords, Dasuki is already being treated as a convict, even when none of the charges brought against him has been concluded.
"We sincerely pray this esteemed court to do the needful by setting aside the decision of the lower court.
"We also pray the court to momentarily halt the applicant's trial until the Federal Government obeys the bail order of court," Daudu said.
Mr Rotimi Jacobs, counsel to EFCC, opposed the appeal, saying that it lacked merit and should be dismissed.
He said the bail condition granted Dasuki was perfected on December 29, 2015.
Source: Vanguard News
Supreme Court fixes March 2, to rule on Dasuki's detention