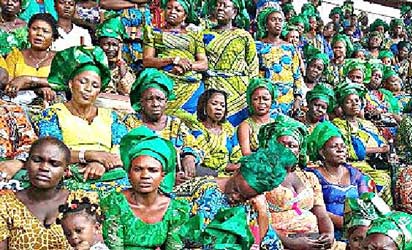 OYO—FORMER Zimbabwean Vice President, Dr. Joice Mujuru and a former First Lady of Liberia, Senator Jewel Howard-Taylor, have urged women to brace themselves for top political and corporate leadership role instead of resigning to the fate of weaker sex tag.
The two were the special guests of honour at the 2017 National Women's Summit, held at the International Conference Centre, University of Ibadan, Oyo State.
The three-day annual summit, which was themed, "The resilient woman: making a difference," was organised by the Officials' Wives' Association (OYSOWA), under the auspices of the wife of Oyo State Governor, Mrs. Florence Ajimobi.
The event, which attracted more than 1,000 delegates across the country, was also graced by four Governors: Mr. Akinwumi Ambode (Lagos State), Mr. Seriake Dickson (Bayelsa State); Ogbeni Rauf Aregbesola (Osun State) and their host, Senator Abiola Ajimobi.
Mujuru, who delivered a keynote address, urged women to stop placing themselves at the mercy of men, urging them to brace themselves for the challenges of leadership at the top echelon of all spheres of human endeavours.
She said that her emergence as the first female vice president of Zimbabwe in 2004, a position she held for 10 years, did not come on a platter of gold, having been in the trenches with the Zimbabwean liberators since 1973.
According to her, women must be inspired to rise to the occasion even when the challenge appeared to be daunting and insurmountable.
She said, "We must have the desire to make a positive transformational difference and not be satisfied by being helpers of men. We must run business and be leaders of nation not rulers."
In her address, Howard-Taylor, who is a ranking senator and running mate to the presidential candidate the Coalition for Democratic Change, Mr. George Weah, in the Liberian presidential election, also echoed similar sentiments.
She said, "Women are currently in difficult circumstances across our world and especially, in Africa; as we struggle to deal with issues of violence against women, unequal opportunity and lack of economic opportunities.
"Resilience is a life journey. I dare not say that it is something you wake up in the morning and you have. But you have to go through the fire and get better and become a more resilient person. There is something you can do now in your shape your life.
Source: Vanguard News
SUMMIT: Women urged to brace up for leadership challenges