By Luminous Jannamike
ABUJA – Maverick Nigerian entertainer cum activist, Charles Oputa, popularly called Charly Boy, has asked former Vice President, Atiku Abubakar, to stop his apparent political promiscuity and focus on joining hands with well-meaning Nigerians to take the country out of mediocrity.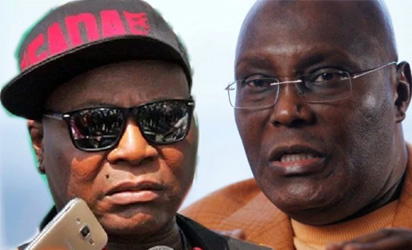 He also lamented President Muhammadu Buhari's seeming lethargy in the face of massive corruption going on within his government.
The 66-year-old grandfather stated these, on Wednesday, in a new video he made available to journalists in Abuja.
The video came barely 24 hours after Atiku stormed the Peoples' Democratic Party (PDP) headquarters to pay a courtesy visit to the national leadership of the Party and to also demonstrate his return after a three-year sojourn to the All Progressives Congress (APC).
During the visit, the former Vice President called on former PDP members, who left the party with him, to also return.
Among those who left the PDP with Atiku were Senate President Bukola Saraki, Transport Minister, Rotimi Amaechi; Senators Rabiu Kwankwanso, Danjuma Goje, Aliyu Wamakko, among others, now holding prominent positions in the All Progressives Congress, APC-led government.
In the video, Charly Boy said, "I am mad; raving mad. I am about to go mad or am I mad?
"How come the blind are leading the sighted, the uninformed are leading the wise, and the unskilled directing the skilled?
"No! What is happening? I am mad; raving mad at the mediocrity of leadership; the promotion of impunity and political promiscuity.
"Listen, let me tell you something. PDP and APC are all the same thieves and rogues called politicians.
"Look at Atiku, running from pillar to post; From PDP to PHD; from APC to CNN to BBC. Come on, stop that break-dancing!
"I am mad that corruption is killing us and Buhari is watching. I am not surprised because under his bed, there's corruption; within his household, there is corruption; even in his 'other' room, there is corruption. Buhari kill corruption before it kills us all.
"Young men and women be on the alert because I know that our foolishness has reached its peak."
Source: Vanguard News
Stop your political promiscuity, Charly Boy tells Atiku