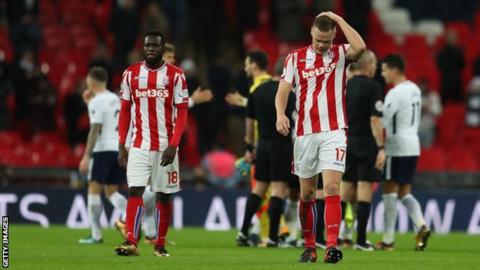 Stoke players were confronted by angry fans at the town's railway station as they travelled home from their 5-1 defeat by Tottenham at Wembley, says manager Mark Hughes.
Hughes wants his players to use the supporters' fury as motivation as they seek to address their slump in form.
Stoke are three points above relegation and travel to seventh-placed Burnley on Tuesday (19:45 GMT).
Hughes said: "That is still resonating. Sometimes you need a reality check."
The confrontation took place as they arrived back at Stoke-on-Trent station on Saturday night.
Stoke's players regularly travel back from away games alongside supporters, but the number of fans on their train on Saturday was greater due to delays out of London.
Fans were then locked inside carriages and made to wait while Hughes' team were allowed off the train first.
Some fans who had been on the same train to Stoke as the players chanted "you're not fit to wear the shirt" at Hughes' players.
"It's good we have a game on Tuesday because it is still fresh in the mind, fresh in their ears probably," he said.
"Use it as a motivating factor. Don't allow people to have an opportunity to question you. You do that by playing well, getting results.
"There could be individuals in our group who haven't experienced it before, but they have now. So they can use it.
"You either suck it up and do something about it or you go under, and we can't accept players like that.
"Sometimes you need to understand how our results and performances affect people."
Stoke have have now conceded 17 goals in their last four games against Spurs, losing 4-0 in their three previous fixtures against Mauricio Pochettino's side before Saturday's latest defeat.
"Each and every one of us understood that before the weekend," added Hughes. "So let's use it as a motivating factor, don't let it make you insular or go into your shell."
Some Stoke supporters have also questioned Hughes' future after only four wins from their 16 games so far this season.
"There's been an undercurrent since I've been here," Hughes said of the flak aimed in his direction.
"On the day I was appointed there was a car outside the stadium with 'Hughes out' written on it – that was before I even got here!
"But I understand it, some people won't like you or your teams, your picks, your substitutions; some don't like your hair or the way you speak.
'You can't take exception to it. I'm the public face of the team so I have to take the brunt of it, I accept that to a certain extent."
Source: BBC SPORTS
Stoke fans confront players after heavy defeat at Spurs