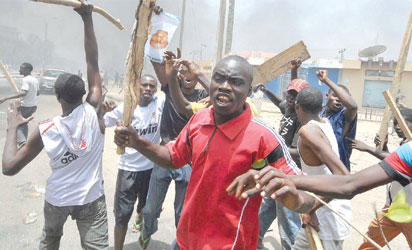 By Perez Brisibe
UVWIAMUGHE – AN innocuous paper presentation at the 2018 Urhobo Congress held at the Urhobo Cultural Center, Uvwiamughe, Ughelli North Local Government Area, Delta State, penultimate Friday, took a dramatic twist as two prominent monarchs of Urhobo Kingdom engaged themselves in a verbal confrontation.
The monarchs are the Orodje of Okpe Kingdom, HRM Felix Mujakperuo, Orhue I, a retired Major General and the Ovie of Uvwie Kingdom, HRM Emmanuel Sideso, Abe I.
The day started with the unveiling of the Urhobo educational curriculum by the state governor, Senator Ifeanyi Okowa in company of former governor and his political mentor, Chief James Ibori, who described the cultural center as an "eyesore."
Darah stirs hornets' nest
After the unveiling of the curriculum and subsequent departure of the governor and his entourage, the guest speaker, Prof Godini Darah mounted the podium to present his paper, titled, "Draft of Urhobo Position on Restructuring Nigeria."
In his presentation, the scholar lamented the sale of unused land at the Army Barracks, Effurun to private individuals with an appeal to the Federal Government to give back the land to the original owners.
Trouble, however, started when Darah, expatiating on his presentation, advised that the authorities return the fallow land allegedly earmarked for an Army Academy to the people of Uvwie in the present day Uvwie local government area of the state.
Okpe monarch explodes
HRM Mujakperuo, who was visibly furious countered Prof Darah, cautioning that since the land in question was in contention between both kingdoms; he should not have brought it up in his paper.
"Do not call that land Uvwie land because Okpe people have a portion of that land," the former army officer intoned.
Uvwie king fights back
At this point, his Uvwie counterpart, HRM Sideso, who could not stomach the vibrations of the Orodje, collected the microphone and addressed his Okpe monarch, saying, "You want to come and collect Uvwie land? Come and collect it, let me see. The land should be returned to Uvwie who are the rightful owners of the land."
The verbal onslaught by the revered monarchs witnessed by the Secretary to the Delta State Government, Hon Festus Agas, former governor James Ibori and over 14 Urhobo traditional rulers, led to murmurings in the hall.
UPU president Taiga wades in
In fact, it was almost degenerating to war for both monarchs, but for the timely intervention of the UPU president -general, Olorogun Moses Taiga, who assured the monarchs that Darah's presentation, was a draft that would be further tinkered.
Needless uproar
Speaking to NDV, Prof Darah opined that the standoff between both monarchs was unnecessary at this time, saying, "The land measuring 200,063 acres was acquired by the Army from the Uvwie people for an Army Academy. But since the Academy was taken to Kaduna, some senior officers have been selling the unused land to individuals; hence the people are demanding that the unused land should be returned to them."
Source: Vanguard News
ROYAL BATTLE: Urhobo monarchs in war of words over controversialArmy land