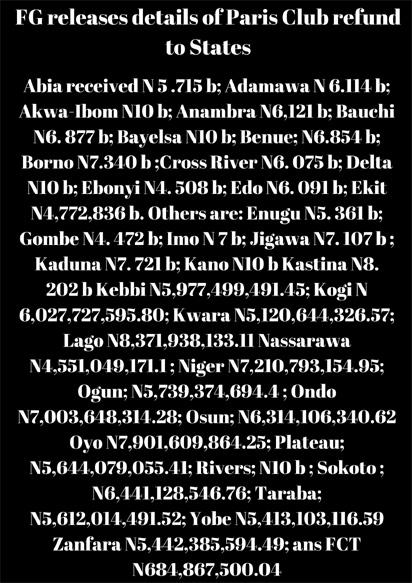 THERE are many indicators in our body polity to prove that Nigeria is still transiting from military rule to democracy, even though the Army vacated the political scene nearly 20 years ago. One of them is the continued handling with impunity of funds belonging to the states by the Federal Government.
The Paris Club debts overpayment refund is one great example. Each time the state governors gather in Abuja to ask the Federal Government to give them back their money they are made to look like mendicants asking for handouts or bailouts from the President.
Chairman of the Nigerian Governors' Forum, NGF, Alhaji Abdulaziz Yari, has expressed the frustration of his colleagues that the Federal Government is adamant in withholding the remaining $3.4 billion (about N1.2 trillion) due to the alleged "mismanagement" of the first tranche of N522.74 billion.
President Muhammadu Buhari had urged the governors to give priority to the payment of workers' salaries in spending that money. Indications, however, are that many of the governors spent the money on choice capital projects and lavish lifestyles while refusing to pay workers and pensioners.
We need to remind the Federal Government that the debt reimbursement by the Paris Club is money belonging to the state governments. It should be transferred to them as soon as it is received.
Under our Constitution, it is not the duty of the President to hold governors or state governments to account over the spending of taxpayers' money. It is the duty of the State Houses of Assembly to do so, supported by the media, civil society groups, organised Labour and members of the public.
The President, as leader of the country, can only exert moral pressure on the governors and empower the anti-graft agencies to do their work where public funds are suspected to have been misused. The Federal Government has no right to withhold funds belonging to the states under any guise. That former President Olusegun Obasanjo did it does not justify this act of impunity. This anomaly should not be allowed to continue.
It is high time we moved away from the military mentality and traditions of our past. The state governments should be allowed to stand on their own feet, generate their revenues, pay their dues to the Federal Government and use the rest to render services to their people, subject to account to the public through the state assemblies. That is fiscal federalism in operation.
In the meantime, we must separate the Office of the Accountant-General of the Federation from the Office of the Accountant- General of the Federal Government. The former should handle the funds belonging to the various tiers of government, disbursing to each tier as and when due pending when full fiscal federalism is achieved.
Source: Vanguard News
Release Paris Club funds to states