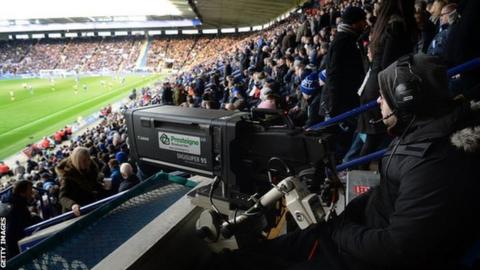 Eight Premier League games will be played in a new 19:45 slot on Saturdays under the terms of a new broadcast package from the 2019-20 season.
Broadcasters will bid for rights to show 200 live matches, more than 50% of the league's 380 games and an increase on the current deal's 168.
The new package will also allow successful bidders to broadcast rounds of midweek matches in their entirety.
It will replace the existing record £5.136bn TV deal struck in 2015.
The new kick-off times on Saturdays will likely see matches shown at the same time as prime-time favourites such as Strictly Come Dancing and X-Factor.
All matches in three midweek rounds per season, and one Bank Holiday round per season, will be broadcast live.
The three-season agreement for 2016-17 until 2018-19 represented a 70% increase on the previous £3bn deal.
Sky paid £4.176bn to show 126 matches, including the first Friday evening games and both Sunday packages, and BT paid £960m for 42 games.
No single buyer will be allowed to acquire more than 148 matches per season. The auction for rights is to be held in February, according to reports.
Rights to show free-to-air Premier League highlights will form part of a separate broadcast package.
What can broadcasters bid for? (all times GMT/BST)
Package A: 32 matches on Saturdays at 12:30
Package B: 32 matches on Saturdays at 17:30
Package C: 24 matches on Sundays at 14:00 and eight matches on Saturdays at 19:45
Package D: 32 matches on Sundays at 16:30
Package E: 24 matches on Mondays at 20:00 or Fridays at 19:30/20:00 and eight matches on Sundays at 14:00
Package F: 20 matches from one Bank Holiday and one midweek fixture programme
Package G: 20 matches from two midweek fixture programmes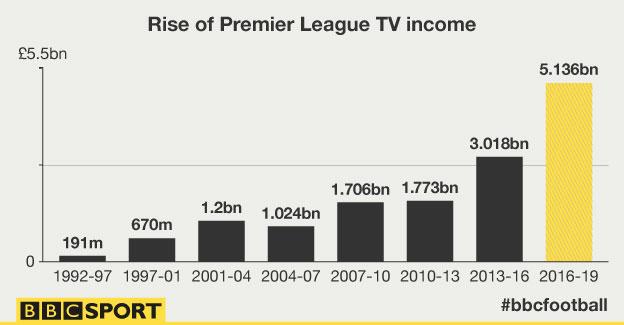 Source: BBC SPORTS
Premier League takes on Saturday prime-time in new TV rights package