By Nwafor Sunday
The National Coordinator APGA Media Warriors Forum, Evang Chinedu Obigwe, Tuesday advised the former governor of Anambra state Mr. Peter Obi to maintain a dignified silence, noting that an attempt by his media aide, Valentine Obienyem to embellish already known political falsehood would yield no positive result in Nigeria political sphere.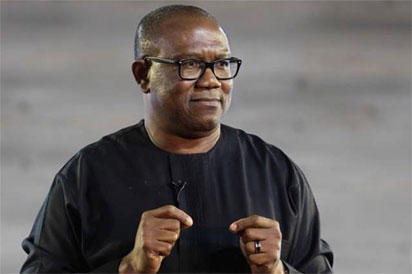 He made this known to newsmen on Tuesday via a press release he issued.
According to him, "the sycophant responsible for the massaging of Mr. Peter Obi over bloated ego used the November 18th governorship election in Anambra State to murder him politically and they are currently plotting to use the forthcoming 2019 general election to conduct his political funeral in Nigeria", he said.
His release read thus:
"My write up is focused on the article that was authored by Valentine Obienyem, the media aide to Mr. Peter Obi, published in page 22 of Daily nation newspaper on 5th October 2017.
"In the article Valentine Obienyem in apparent reference to Governor Obiano alleged that voters were paid 10,000.00 each in some polling stations to vote for a particular candidate.
"Valentine Obienyem's article is a fallacious moonlight tale of a political aide that is in a desperate search for a damage control antidote to cushion the effects of the political wound sustained by his paymaster in the last November 18th governorship election.
"The best thing for Peter Obi is to maintain a dignified silence because attempting to use embellished falsehood to shore up his already destroyed political image will yield no fruitful result for him.
"Peter Obi's biggest political mistake is his failed attempt to play god in Anambra politics. He should have saved himself the November 18th disgrace by refraining from his evil political moves against Governor Obiano.
"My advice to Peter Obi is to call his supporters to order and seek for political restitution for cooking up fallacious stories against Governor Obiano just to pull him down at all cost.
"The wish of God has been actualized in the November 18th election and let Obiano's opponents that lost the election desist from shadow boxing. They should rather team up with lovers of good governance in supporting the Governor to deliver on his campaign promises to the people of the State.
"Those casting aspersions on Governor Obiano after the November 18th election are enemies of progress who want to take the State back to the biblical Egypt."
He reiterated his earlier assertion that if the November 18th governorship election is conducted 1million times with Governor Obiano as a candidate, he (Obiano) will still clinch a landslide victory in the election.
"Anambra opposition party leaders dissipating energy in seeking for an excuse to give to Nigerians as the reason behind their lost of the election to Governor Obiano are deceiving themselves and what they are doing is a medicine after death which cannot change the reality on ground", he finally said.
Source: Vanguard News
Peter Obi should maintain dignified silence – Obigwe