CHAIRMAN of the PDP National Elective Convention Committee and governor of Delta State, Dr. Ifeanyi Okowa, has said the party's governors are not supporting one chairmanship candidate, dismissing rumours that the governors were forcing a national chairman on the party as false.
Okowa who made the clarification in a television chat, said: "In most of the states, the convention delegates are already known and the party will ensure it gives a level playing ground to all the aspirants, expressing hope that "the party will be more united, following its upcoming convention on December 9."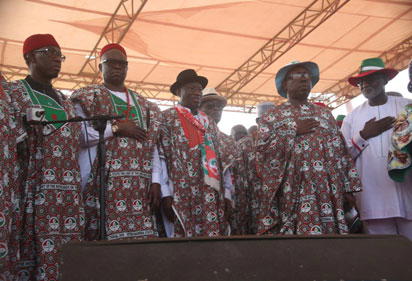 Holding that the PDP would be a much stronger force to contend with in the 2019 presidential election, he said: "The party is doing everything possible to ensure a hitch-free convention. I believe that the National caretaker committee of the party is doing a lot to ensure that things are put in place.
"As for the national planning committee that I lead, we were inaugurated this afternoon and we have held our inaugural meeting. We do know that in any elective convention, all kinds of views come into play but ours as a planning committee is to ensure that we deliver a convention that is credible and in which all the processes are such that will be blameless. We will deliver on a free, fair and transparent primary. That is our aim.
"For the reconciliatory process, we will be looking up to the party leadership to deal with that but our major task is to deliver a convention that is truly credible and that all can attest to. That will enable us to heal faster, and unite faster after the convention."
On reports that the Chairman of the electoral panel and former governor of Benue State, Mr Gabriel Suswan, had declared support for a candidate, Okowa said: "I am not aware that he has declared support for any particular candidate but even if he has any sentiments for anyone, he will not be in a position at all, on the convention day to do anything that is unjust. We are going to adopt the open secret ballot system of voting.
"We have also put in place a credible team to ensure reconciliation of party members who may feel aggrieved going forward after the convention."
On the defection of a former vice President Atiku Abubakar, to the PDP, he said that "there is strength in numbers; the party will always welcome as many persons as possible."
"We believe that as many persons that come into the PDP is good for us because it will help to strengthen the party because politics is one that is inclusive; the more persons you get into the party, the greater the strength of the party. So we will welcome him into the party just as we will look forward to many more persons who will want to come over to join us as a family it will be a welcome idea because it will help to strengthen us going into 2019".
On whether or not he believes the PDP was ready to take over power from the ruling All Progressives Congress, APC, Okowa said: "Our party is building much stronger and this convention definitely is going to lift us up into the future, I believe so because this convention is purely conciliatory and unifying and we believe that the resource will lead us strongly into the future."
Source: Vanguard News
PDP Convention: Govs won't force National Chairman on party —Okowa