By Onozure Dania
Lagos—WIFE of former Nigeria President, Patience Jonathan, has re-filed an application seeking to vacate a no debit order placed on her account which has the sum of $15.5 million at Skye Bank Plc by the Economic and Financial Crimes Commission, EFCC.
Justice Mohammed Idris of a Federal High Court sitting in Lagos had on May 8, 2017, ordered the re-filing of the suit through writ rather than originating summons.
At the resumed hearing of the case yesterday, Justice Idris granted an application by the former first lady seeking an extension of time within which to reply to the EFCC's statement of defence.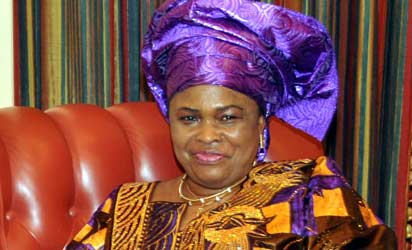 However the judge fixed January 19, 2018, for the commencement of trial.
While ordering the re-filing of the suit, Justice Idris held that it would not be proper for the plaintiff to commence the suit by way of originating summons since issues surrounding the ownership of the money were largely contentious among parties.
The judge also noted that oral evidences would be needed to resolve the issue in contention and ordered parties to file their pleas in line with the Federal High Court rules 2009 for trial to commence in the matter.
EFCC had argued that the matter was not properly commenced by originating summons on the premise that the facts were in total dispute and as such ought to come by writ.
"The plaintiff in her response stated that the affidavit evidence showed largely that there were no disputed facts of substance among the parties and that if the court is not sure of this, it should order pleadings so that a full trial can be embarked upon.
"It is now settled law that originating process is the ideal process to commence a suit where there is no dispute. The issue in contest is on the ownership of the fund in the account of the fourth, fifth and sixth defendants.
"In respect of this issue, the contention appears divided and facts are in substantial dispute. In the light of the above, it cannot be rightly contended that there are no disputed facts and substance as to the ownership of the said fund," the judge said.
Source: Vanguard News
Patience Jonathan re-files application to vacate no debit order