…As CAN, PFN presidents extol his virtues
By Sam Eyoboka
PRESIDENT of the Living Faith Church Worldwide, a.k.a Winners Chapel International, Bishop David Oyedepo on Saturday at Shiloh 2017, slammed a capital verdict on ritualists dealing with human parts in any part of the country.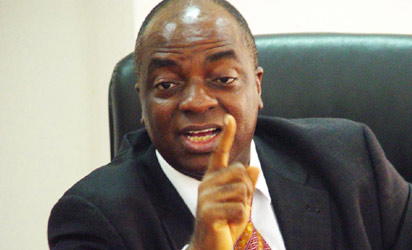 Delving into a three-fold teaching on the mysteries of the anointing oil, the prophetic mantle and spiritual fatherhood, the renowned apostle of faith did not hide his anger at all unrepentant abusers of mankind during the impactation service.
Shiloh, the just concluded annual prophetic gathering of the Winners' family christened "A New Dawn" ran from Tuesday, December 5-10, 2017 with 54 nations in attendance while 151 other nations watched proceeding online.
In his verdict, "anyone across the nations of the world, trading in human parts" buying same is "cursed", as he insisted that "if there were no buyers there would not be sellers" and decreed "instant judgmental death" on the perpetrators.
In his words: "I have been sent by God to take over this territory and anyone sacrificing human beings for political power has come to his last days.
"You turn innocent children to orphans; you turn innocent women to widows. I'm sent to take over this territory, I'm in my God-ordained domain and I open fire on you now. God sent me to stop the innocent from being molested. Anyone that buys human parts to become anything, I decree the arrow of God to strike you right now," Oyedepo declared
Shiloh 2017, among other things, is also known to be the beginning of a new year for the Winners' family worldwide and so the Bishop declared that "throughout the year 2018, mourning and weeping are not permitted" among his followers.
"Nobody will be buried in your family, every siege of untimely death is crushed finally today, in the mighty name of Jesus, your path shall be shinning more and more, things that eyes have not seen shall become the order of the day in your life throughout the year 2018", he thundered.
Among dignitaries present at the 5-day event were President, Christian Association of Nigeria (CAN), Rev. Samson Ayokunle, and President, Pentecostal Fellowship of Nigeria (PFN), Rev. Felix Omobude.
Reverend Ayokunle who was at the convention on Friday, December 8, described Oyedepo as a pillar of support for the Church in Nigeria, adding that Oyedepo had also been a source of personal encouragement. "You are a great pillar of support for the Church in Nigeria. You sought me and encouraged me. And because of people like you, I will continue to stand firm for the people of God in Nigeria," Ayokunle said.
On his own part, the President, Pentecostal Fellowship of Nigeria (PFN), Rev. Felix Omobude who graced the event earlier on the opening night labelled Oyedepo as a 'credible voice' in the Body of Christ.
"You are a very distinguished leader in the Body of Christ. Unmistakably, you are a credible voice in the Body of Christ. Thank you for all you are doing across the nations of the world to expand the word," Omobude said.
Other highly placed ministers of God present at the event included Bishops David Abioye, Thomas Aremu, Pastors David Ibiyeomie, Paul Enenche, David Oyedepo Jnr, Isaac Oyedepo, and other anointed men of God.
Papa as he fondly called thereafter announced Dec 4-9, 2018 for the 19th edition of the annual convocation.
Source: Vanguard News
Oyedepo curses buyers, sellers of human parts at Shiloh 2017