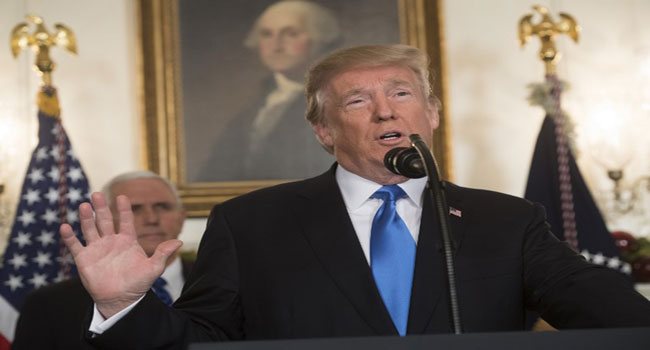 United States President Donald Trump's decision Wednesday to recognise Jerusalem as Israel's capital has drawn sharp criticism, with the significant exception of Israel.
Here are key reactions from around the world:
– Israel salutes 'historic' day –
Israeli Prime Minister Benjamin Netanyahu hailed Trump's recognition as "historic" and a "courageous and just decision".
Netanyahu also pledged no change to the status quo at Jerusalem's highly sensitive holy sites in the city, sacred to Jews, Christians and Muslims.
– 'Undermining peace' –
Palestinian president Mahmud Abbas said the US could no longer play the role of peace broker after Trump's decision.
"These deplorable and unacceptable measures deliberately undermine all peace efforts," Abbas said in a speech.
– 'Destroys two-state solution' –
The secretary-general of the Palestine Liberation Organisation said Trump had destroyed any hopes for a two-state solution to the Israeli-Palestinian conflict.
"He destroyed the two-state solution," Saeb Erekat, who long served as the Palestinians top negotiator, told journalists.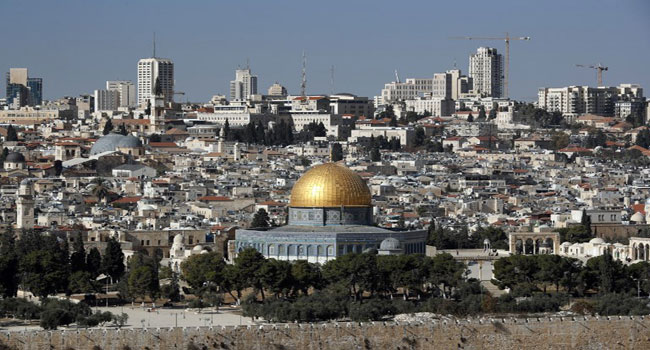 – 'Open gates of hell' –
Hamas said Trump's decision would "open the gates of hell" on US interests in the region.
"This decision will open the gates of hell on US interests in the region," Ismail Radwan, an official with the Palestinian Islamist movement that runs the Gaza Strip, told journalists.
– UN against 'unilateral measures' –
UN Secretary-General Antonio Guterres implicitly criticised Trump's announcement, warning that Jerusalem's status must be resolved through direct Israeli-Palestinian negotiations.
"From day one as secretary-general of the United-Nations, I have consistently spoken out against any unilateral measures that would jeopardize the prospect of peace for Israelis and Palestinians," Guterres said.
– 'Violation of international law' –
Jordan condemned Trump's recognition of Jerusalem as amounting to a violation of international law and the UN charter.
"The decision of the American president to recognise Jerusalem as Israel's capital and the transfer of the US embassy to this city constitutes a violation of decisions of international law and the United Nations charter," said government spokesman Mohammed Momani.
– 'Irresponsible, illegal' –
Turkey slammed Trump's Jerusalem announcement as irresponsible and illegal.
"We condemn the irresponsible statement of the US administration… the decision is against international law and relevant UN resolutions," Turkish Foreign Minister Mevlut Cavusoglu wrote on Twitter.
– 'Unhelpful for peace' –
Prime Minister Theresa May said the British government disagreed with Trump's decision, saying it was "unhelpful" for peace efforts.
"We disagree with the US decision to move its embassy to Jerusalem and recognise Jerusalem as the Israeli capital," she said in a statement. "We believe it is unhelpful in terms of prospects for peace in the region".
– 'Avoid violence' –
French President Emmanuel Macron branded the decision from Trump as "regrettable" and called for efforts to "avoid violence at all costs".
Macron affirmed "the attachment of France and Europe to the two-state solution, Israel and Palestine living side by side in peace and security within internationally recognised borders, with Jerusalem as the capital of the two states."
AFP
Source: Channelstv
Outrage After Trump's Jerusalem Announcement