By Simon Ebegbulem,Benin-City
Hon. Pally Iriase is the Deputy Chief Whip of the House of Representatives and member representing Owan Federal Constituency of Edo State in the House. In this interview, Iriase speaks on the 2018 Budget submitted to the National Assembly by President Muhammadu Buhari.
He also speaks on the defection of former Vice President Atiku Abubakar from the All Progressives Congress (APC) to the People's Democratic Party (PDP).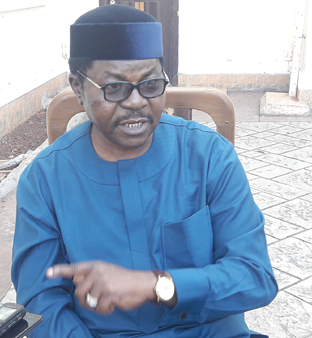 We are surprised that shortly after President Buhari submitted the 2018 Budget to the National Assembly, there was this criticism concerning the implementation of the 2017 Budget by you, APC lawmakers, and your PDP counterparts. Why?
It might look as if it is something that is not good for my party. But if you look closely at the root cause of the challenges bedevilling the 2017 Budget, it was a carryover of the mismanagement of resources in this country. Because the moment the price of oil plummeted, Nigeria could not find its feet anymore. The reason is that when oil price was at all-time high, that is, over one hundred dollars per barrel, the administration then did not save anything. Now, the 2017 Budget is suffering because of lack of funds. A situation whereby the capital portion of that budget was projected to be funded totally by loans was certainly not a healthy way to go about it. The physical deficit in that budget compared very favourably with the total allocation to the capital expenditure. In other words, one hundred per cent of the capital portion of the 2017 Budget was to the funded by borrowing. And you know that a loan was only recently sourced through Euro bond and that has left the budget unimplemented in terms of capital expenditure. Now the essence of politics is to fight for the voiceless people; it has nothing to do with the party. We feel that Mr President has been quite honest with the situation we found ourselves in and he assured that so long as the Eurobond is approved by the National Assembly and it is gotten, the 2017 Budget must perform 50 per cent before the budget is closed, and the capital expenditure that could not be completed because of paucity of funds would be rolled over. The members of the National Assembly are there for the people. We cannot because we are in APC tell a lie that a budget that is not performing is performing. That is the issue; we are not being partisan. We are calling the attention of the executive to the fact that "you cannot pass a budget and put it away and start a new one". Mr President actually told us that the MDAs have done their best to roll over. But if you look at the 2017 Budget, the roll over is not properly done as Mr President thought it is. We now have the figures and we said we need to roll over.
Not a matter of APC vs PDP
So if this budget is being criticized, we are not criticizing the President because he did not cause this in the first instance. And happily for Nigeria, things are getting better here. And the outside world is very happy with what is going on in Nigeria in terms of the seriousness of taming corruption and ensuring that leakages are plugged as much as possible while focusing expenditure on critical infrastructure that will ensure the payment of whatever borrowings and that has led to the over-subscription of the Eurobond. We won't fold our hands and say what Mr President said was mere political rhetoric, that this budget will at least perform 60 per cent in terms of capital expenditure. We have to encourage them. So it is not a question of APC VS PDP in the National Assembly, it is a question of the interest of the people. And in this matter we are not being antagonistic to the executive, nobody says the budget should not be passed but the right thing must be done. We won't allow a situation where you put the entire capital portion of the 2017 Budget aside; you are talking about N450billion out of N2.3trillion that was earmarked for capital. If you are not spending on capital, how are we sure that we are not going back to recession? They got it right by going for Eurobond because the cost of borrowing locally has become terribly high. The interest rate has shot through the roof top.
But there is this fear that going for Eurobond is like submitting Nigeria to the dictates of World Bank and IMF policies?
Those who think that way are not informed. Going to the market directly, not through IMF or World Bank, is a bold step to preserve the sovereignty of Nigeria. Because as they went out there, they did what we call book-building in financial terms, going for institutional investors. The investors believe in you, they put their money down; by the time our people collated, they found that the bond was oversubscribed which showed the level of the confidence the offshore institutional investors has in the Nigerian economy. This Eurobond has nothing to do with IMF; if it is an IMF facility, you would have been hearing all sorts of conditions. It is not correct that we are mortgaging the sovereignty of Nigeria by going for Euro bond, rather what it is set to do is that the highest rate is in the region of a little above seven per cent. Much of it is even much less than that. But if you compare that with rates as high as over 16 per cent for bonds in the Nigerian market or even as high as more than 18 per cent in case of treasury bill, you can begin to see why it makes sense.
It is being rumoured that Atiku'[ defection to the PDP will herald the movement of some aggrieved APC lawmakers to the PDP?
All my life, I try not to work on rumours, but I can assure you that this government of APC, let's put politics aside, is actually taking Nigeria on the right path. It is just that the rot that you need to clean up to start seeing light at the end of the tunnel is so humongous. We as human beings by nature want quick fix but it is not possible to do quick fix. Even as of now, you are talking about predicating your budget on 45 dollars bench mark. Throughout the last administration, we were talking about 90 dollars to 98 dollars per barrel. Can we talk about that kind of money now? No. So people have to be reasonable. You had a wonderful opportunity, you filtered it away; somebody had the ill-luck to take over when the damage has been done and he is trying his best to correct the ills and put you on a path of sustainable development but ironically those who led Nigeria to where we are today are the ones making noise. I don't want to start playing politics yet and that is why I am reserving my comment about defectors but I can say out rightly that there is no Atiku factor in Edo politics.
But Atiku accused the APC led government of deviating from its promises to Nigerians
Nobody has deviated from those promises. The rate of achieving those promises depends on factors that are beyond the control of individuals. You took over government at a time when oil price fell to as low as 27 or 30 dollars per barrel. It is just like going to where you work and they tell you that due to hardship they don't want to down size but they will cut your salary; that will surely affect your family. That is where we are going. But we politicians, we tell lies a lot. It does not make sense to me when people see a spade they call it by another name. Look at all these billions that are being traced, they are in the hands of Nigerians and you could see the battle the President is fighting to recover those funds. Mr President cited it the other day we met him. He said when he was in the military, once you were known to be a thief, he will bundle you into the prison; from there, you will prove whether you are clean or not. But this time, when you see a thief looting and going away with your money, they will tell you he is innocent until proven guilty by the court. He said "you can see my dilemma".
How is the National Assembly investigating Mainagate?
Corruption is a hydra-headed monster. Maina was yet an answer to it. Once a matter involves too much money, people are easily compromised. But the National Assembly is always ready to expose these issues to the understanding of the average Nigerian. If you have been following the House of Reps committee that is probing the Maina issue, you will marvel when you hear the revelations coming out. We now know who did the reinstatement. Initially serious effort was made to put it in the head of the hardworking Head of the Civil Service of the Federation but the truth is out. The Permanent Secretary of the Ministry of Interior has owned up that he did it. If the House did not wade into it we would not have known. We have several of such expository investigations that are helping the nation, now we know that Maina is not a ghost. More revelations will come, lies are being unravelled.
Another issue is the Intel VS NPA. The House has constituted a committee of which I am the Chairman. We are working behind the scenes. Is it true that this nation is gradually becoming unfriendly to investors? Is it true that all that was done was dirty politics in action, was it a vendetta? These are things that will be exposed.
We observed the construction of Ikhin,Otuo/Afuze Road in your constituency. How was this achieved and what is the state of the General Hospital in Otuo, your community?
When Nigerians hear about constituency projects, which we call zonal intervention projects, it is easy to denigrate National Assembly members and sweep us all into the garbage heap of corrupt people who do nothing with the funds earmarked for the projects. The seed money that eventually saw to it that the road came into place was sourced from my zonal intervention funds because you have to be able to show your love for your constituents to draw forth the attention of the requisite ministry, department or agency. But happily when they saw what that meant, they came to my aid and mobilized the contractors. The Ministry of Niger Delta know things that cause restiveness in this area are bad roads, poor infrastructural facilities; so, they came to my aid and featured it in that budget. I am happy that my intervention gave rise to that road and people are better for it.
Second, you talked about the hospital. I also used my zonal intervention to assist the state government by ensuring that a large chunk of the equipment needed in that hospital are supplied through those funds. I love to involve myself in capital intensive projects that will impact maximally on the lives of the people. And the result is what you are seeing in those areas you have mentioned. Mine can be used as an example of the helpfulness of zonal intervention funds. On the standard of the road, the Ministry of Niger Delta has ensured that it is designed to last.
Source: Vanguard News
Offshore institutional investors have demonstrated their confidence in Nigeria's economy – Iriase