By Luminous Jannamike and Emmanuel Elebeke
ABUJA – Vice President, Yemi Osinbajo, on Sunday, said that, in 2018, Nigeria will emerge better and stronger from its current state of hopelessness and cynicism.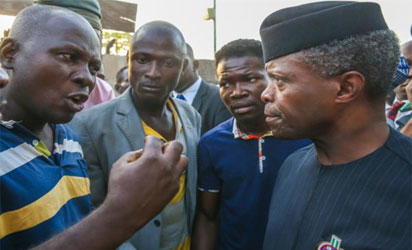 Osinbajo stated this in a message during the 2017 Service of Nine Lessons and Christmas Carol jointly organised the Nigerian Television Authority (NTA), Federal Radio Corporation of Nigeria (FRCN), and Voice of Nigeria (VON) in Abuja.
The service of nine lessons which is basically the rendition of nine short lessons from Genesis and the Gospels, tell the story of the fall of humanity, the promise of the messiah and the birth of Jesus Christ.
The Vice-President, who was represented by the Aso Villa Chaplain, Pastor Seyi Malomo, said just like the story of Christmas speaks of the birth of the messiah, there is a palpable feeling that something new is about to emerge; that Nigeria is about to be reborn and transformed in the coming year..
He said: "Often, the transformation of the country begins with hopelessness and cynicism. It may be that the nation has labored under oppressive and divisive circumstances such as poverty, inequality, bitter ethnic and religious division, and hate.
"But in the midst of poverty, corruption, ethnic and religious divisions, hope begins to be built in the heart of some people.
"A new vision is birth in the heart of these people that Nigeria can be reborn from the furnace of despair."
In a sermon, Rev. Felix Meduonye, the General Overseer of Foursquare Gospel Church, reflected on the theme "Jesus our Strength and Peace" and prayed for the manifestation of God's blessings on all, saying Nigeria is positioned to receive God's blessing in the coming year.
"As we go into 2018, God will bless us with peace by all means. Nigeria will have hope. We need it so much," he said.
Also speaking, the Secretary to the Government of the Federation (SGF), Boss Mustapha, enjoined Nigerians to enjoy the Christmas season in terms of sharing and merry-making, adding that it is "a season of love, a season of togetherness, a season of sacrifice, and a season of joy.
"The most important significance of Christmas season is that it is a period for us to renew pour relation with God, our love and forgiveness for our fellow human beings," he said.
Highlight of the event were the Service of Nine Lessons taken by different readers including Senator Dino Melaye, Boss Mustapha, and Steve Egbo, NTA's Executive Director of Administration and Finance among others.
The event also featured musical renditions by various choral groups, church choirs, and solo gospel artistes.
Source: Vanguard News
Nigeria will emerge stronger from current state of cynicism, hopelessness in 2018 – Osinbajo