COMPLAINTS over alleged excesses of the Special Anti-Robbery Squad (SARS) of the Nigeria Police Force have assumed a tumultuous point, with the floating last week of #ENDSARS, a campaign to scrap the squad in the social media.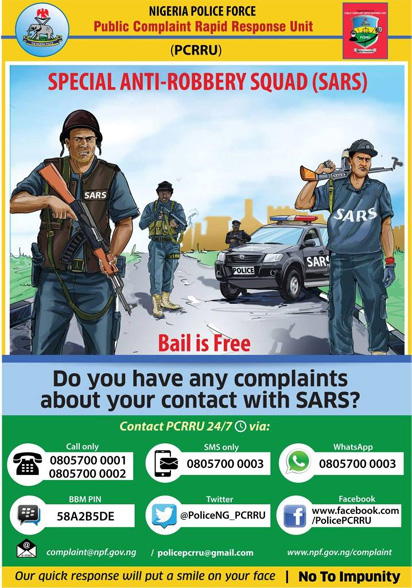 In September 2016, Amnesty International (AI) followed in the trail of widespread complaints by citizens and published a report accusing the Squad of subjecting its detainees to horrific torture in form of 'hangings', beatings, shootings, mock executions and extortions. Also, last September, the Governor of Rivers State, Nyesom Wike, accused SARS men of being behind the upsurge in kidnappings in the state.
When the #ENDSARS agitation surfaced in the social media, it was a floodgate of personal experiences, as citizens took turns to catalogue their individual experiences at the hands of the tough, armed-to-the-teeth policemen charged with the onerous responsibility to confront violent crimes in our society.
Spokesman of the Police Force, Jimoh Moshood, however, dismissed these allegations, saying the SARS men have been performing "fantastically well." He asked members of the public to disregard the "false rumours" adding that the Police always investigate complaints and deal with errant officers.
For the avoidance of doubt, we must bear in mind that SARS, which is one of the 14 units under the Nigeria Police Criminal Investigation and Intelligence Department was created to arrest, investigate and prosecute people involved in violent crimes such as armed robberies, murders, kidnappings, hired assassinations and other forms of extreme criminality.
There is no doubt that some elements among them indulge in excesses that run counter to their true professional calling. In fact, SARS is just another offshoot and mirror-image of the society we all live in, where corruption, bad governance, the quest for quick and easy money and impunity push people to involve themselves in activities that are considered outrageous in civilised societies.
The call for its scrapping cannot solve the problem. Rather, it will embolden these violent criminals to come out into the open and have a field day. SARS men put their lives on the line to protect the generality of the population. We need to encourage them, and exploit the channels created by the Police authorities to lodge complaints when there is a need to do so.
The Police authorities should see the #ENDSARS campaign as a wake-up call and take more proactive steps to keep their operatives within their professional lines and rules of engagement. Whenever bad eggs are identified, they should be appropriately dealt with, while more efforts should be made to upgrade their training, improve their welfare and give them a sense of pride in their jobs.
We must build bridges of friendliness and co-habitation between the Police and the citizenry because both sides need each other.
Source: Vanguard News