Welsh football's governing body has ruled out the prospect of an Englishman being named the next Wales manager.
The Football Association of Wales (FAW) hopes to have a successor to Chris Coleman in place in time for the draw for the Nations League on 24 January.
"We have always favoured Welsh people because arguably the passion is there," said FAW chief executive Jonathan Ford.
"Somebody said this earlier, Welsh most definitely, foreign possibly, but definitely not English."
The last six Wales managers, including caretakers, have been Welsh, with Bobby Gould the last English – and non-Welshman – to manage Wales in 1995-1999.
Coleman parted company with the FAW following Wales' failure to qualify for the 2018 World Cup finals in Russia next summer.
While the search for a new national manager has begun, Wales do not have another match until the 2018 China Cup.
"We have a little bit of time and we will be going through that process, a diligent process, to select our new manager, maybe towards the end of this year or the start of next year," said Ford.
"We have the draw for the European Nations League at the end of January so it would be lovely to take a new manager across to that draw, so that gives you the first sort of deadline we are working to."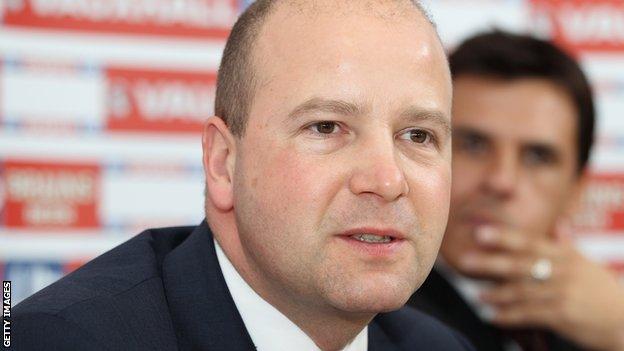 Coleman's assistant Osian Roberts, plus ex-Wales strikers Craig Bellamy and John Hartson have all expressed their interest in taking over.
Former Wales and Manchester United forward Ryan Giggs has been long admired by the FAW, while Welshman Tony Pulis – sacked as West Bromwich Albion manager last month – is also among the contenders for the post.
Ford believes the Wales job has now become an attractive proposition following Coleman's feat in leading the team to the semi-finals of Euro 2016.
He said: "Understandably a lot of people have expressed interest. These kinds of jobs advertise themselves.
"But I also have to go and see the relevant people. It's a two-way street – people will assess us as much as we assess them and I would expect any prospective candidate to understand the system we have in place."
Ford also said there are no ill-feelings towards Coleman, who cited "differences" with the FAW following his departure to take over Championship side Sunderland.
Speaking for the first time since Coleman's exit, Ford said: "We are grown-up people. We both wanted it [an agreement] but it was not to be. Ultimately you cannot make people do the job and we wish Chris the very best of luck in the future.
"He did a fantastic job. Historical, absolutely. Legendary, absolutely. We have a lot to be thankful for.
"It worked very well for Chris when we found him in the first place. He took over in very difficult times, he has left us in a very different place. We are delighted with what he has done and we wish him the very best of luck."
Source: BBC SPORTS
Next Wales boss will be 'foreign possibly, but definitely not English'