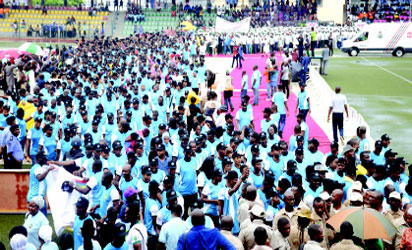 By Princewill Ekwujuru
The Nigerian Bottling Company Limited (NBC) has empowered over 700 youths at the Kano edition of its program, 'Youth Empowered' Workshop.
The workshop is part of the Coca-Cola Hellenic global initiative designed to support over 500,000 young unemployed people between the ages of 18-30 by 2020, to build life and business skills and long-lasting networks that would translate to meaningful employment and self-sufficiency.
Speaking at the event, Comrade Garba Mohammed, the Commissioner of Information, Youth, Sport and Culture, expressed the government's appreciation in the company's drive to help tackle the scourge of unemployment in the country.
Mohammed noted that the state government was ready to collaborate with NBC on initiatives that concern the upliftment and empowerment of youths.
He stated: "Over the last two years, the State Government had embarked on a similar initiative to assist 70,000 youths in the state."
While commending the Company for taking the bold step to assist the youths, he urged other corporate organizations to emulate the gesture from NBC by initiating other highly productive ventures for Nigerian youths, advising the participating youths to make the best use of the programme.
The NBC Legal, Public Affairs and Communication Director, Mrs Sade Morgan, explained that the huge turnout for the programme demonstrates the willingness and readiness of the youths to learn new skills as well as desire to tap from the depth of knowledge of mentors present at the training.
She stated further that the program is largely informed by the desire of the company to address a disturbing unemployment statistics in Nigeria which seems to be growing at an alarming rate, with recent reports showing that one out of every four Nigerian youth is unemployed.
On his part, the NBC Public Affairs Manager, Abuja and North region, Aminu Mohammed, described the program as laudable and would go a long way to boost literacy in the North.
One of the NBC Youth Empowered mentors, a lecturer in the Department of Mass Communication, Bayero University, Kano, Dr.Bala Mohammed, stated that the initiative by NBC is highly commendable considering the huge youth population in the North and the consequent rate of unemployment that exist in the region.
NBC Youth Empowered has taken participants through workshops in Lagos, Port-Harcourt and Kano, to help them discover themselves, understand their strengths and developmental opportunities, as well as provide a platform for meaningful interaction with business leaders and mentors.
Participants were taken through a 3-day business skill workshop designed to provide them with essential business skills, such as project and time management, business planning, negotiation, financial literacy, communication and sales skills. Participants who are unable to attend the live training would be able to get the same experience online via a digital hub. In all, the NBC Youth Empowerment initiative is expected to reach a total of 10,000youths in this first instance. The practical learning from the program is life changing and can be applied by the participants on their own, at the workplace or their entrepreneurship drive
Source: Vanguard News
NBC empowers over 700 youths in Kano