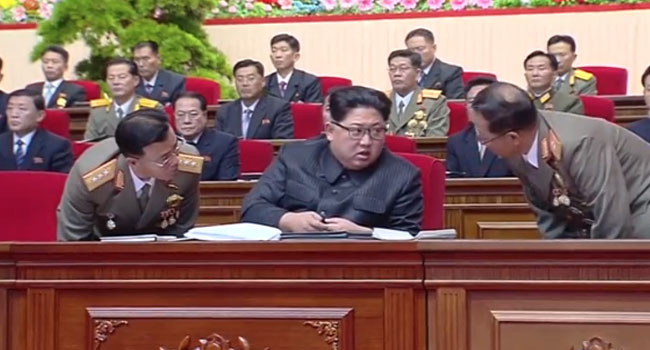 North Korean leader Kim Jong Un said on Monday the country should develop and manufacture more diverse weapons to "completely overpower the enemy" at a rare munitions conference in Pyongyang.
The North's state-run television KRT on Tuesday showed a video of Kim along with contributors to the test launch of the latest Hwasong-15 missile attending the 8th Conference of Munitions Industry at the April 25 House of Culture in Pyongyang.
READ ALSO:Kim Jong Un Visits Tire Factory For Missile Vehicle
KRT said Kim addressed the conference to laud the North's latest intercontinental ballistic missile (ICBM) launch.
North Korea last month test-launched what it called its most advanced ICBM in defiance of international sanctions and condemnation as it presses on with its mission to create a nuclear-tipped missile that can hit the United States.
Reuters
Source: Channelstv
Kim Jong-un To Manufacture More Diverse Weapons