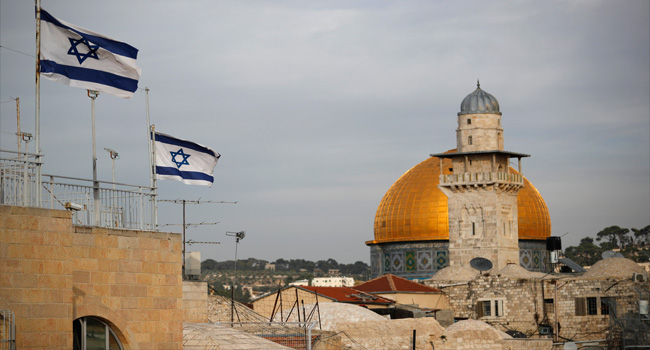 Britain's Foreign Secretary Boris Johnson warned Wednesday that President Donald Trump's plan to recognise Jerusalem as Israel's capital underlines the urgency of a new US-led Middle East peace plan.
Johnson was speaking alongside US Secretary of State Rex Tillerson on the sidelines of a NATO ministerial meeting in Brussels ahead of a bilateral meeting. Tillerson had no comment on Trump's imminent decision.
"We'll have to wait and see what the president says," Johnson told reporters, hours before Trump was expected to announce that the US will recognise Jerusalem as Israel's capital and begin preparations to move its embassy there.
"But clearly this is a decision that makes it more important than ever that the long-awaited American proposals on the Middle East peace process are now brought forward and I would say that that should happen as a matter of priority," Johnson said.
"We would like to see as a result of this the Americans proposals on the Middle East peace process brought forward," he added.
In recent months Trump's son-in-law and senior adviser Jared Kushner has been working with a small team to develop a new US proposal to revive peace talks between Israel and the Palestinians.
But Trump's decision to pre-empt the process by backing Israel's claim on Jerusalem has triggered a chorus of international concern, amid fears that it could sink any hope of new peace talks.
As he waited for Johnson to arrive for a handshake photo opportunity, Tillerson told reporters that the Jerusalem issue had not overshadowed his meetings at NATO. "We haven't had a lot of talks about that," he said.
Before meeting Tillerson, Johnson had already expressed British concern as he arrived for a NATO meeting in Brussels.
"We view the reports that we have heard with concern, because we think that Jerusalem obviously should be part of the final settlement between the Israelis and the Palestinians, a negotiated settlement," he said.
Johnson said Britain had "no plans" to move its own embassy.
The British alarm follows stern criticism of Trump's proposal from EU diplomatic chief Federica Mogherini.
Both Israelis and Palestinians claim Jerusalem as their capital and previous peace plans have stumbled over debates on whether and how to divide sovereignty or oversee holy sites.
AFP
Source: Channelstv
Jerusalem: Britain Urges U.S. To Reveal Mid East Plan