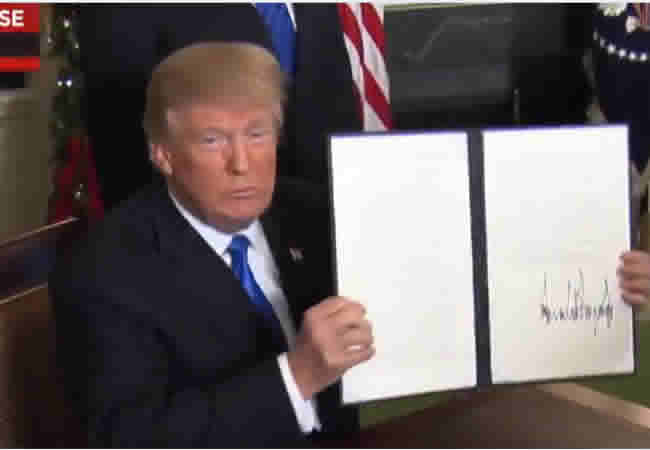 Tony Okafor
The Indigenous People of Biafra has commended President Donald Trump of the United States for his recognition of Jerusalem as Israel's capital.
In a statement on Saturday, IPOB's Media and Publicity Secretary, Emma Powerful, described Trump's decision as courageous and visionary.
It said, "Many may be upset that he did what he did, but we are ecstatic. It is a thing of great joy and a refreshing reminder that our world still has the regenerative capacity to birth transformational leadership."
Powerful said IPOB was encouraged by the decision because it was an eye-opener to countries averse to self-determination of indigenous people.
The IPOB spokesperson maintained that from the development, the realisation of a sovereign state of Biafra was sure.
The statement read in part, "We salute you, Mr. President. Thank you for recognising Jerusalem as the eternal capital of Israel, and thank you, most of all, for the plans to move the US embassy from Tel Aviv to Jerusalem.
"We believe that many more countries will emulate your courageous act, and we also hope that soon, the Republic of Biafra will emerge out of wanton repression, and we will become Israel's strongest ally on the African continent with a beautiful embassy in the holy city of Jerusalem.''
Copyright PUNCH.
All rights reserved. This material, and other digital content on this website, may not be reproduced, published, broadcast, rewritten or redistributed in whole or in part without prior express written permission from PUNCH.
Contact: [email protected]
(Visited 169 times, 53 visits today)
.socialmedia {
margin-bottom:20px;
margin-top:20px;
font-family: 'Open Sans', sans-serif;
}
.socialmedia h3 {
font-size:14px;
margin-bottom:10px;
font-weight:bold;
text-align:left;
}
.socialmedia h3 span {
font-size:14px;
font-weight:normal;
line-height:1.5em;
}
.socialmedia h3 span a {
color:gray;
}
Source: Punch
IPOB hails Trump over Jerusalem decision