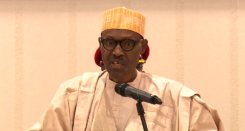 President Muhammadu Buhari has reaffirmed his strong commitment to the proposed anti-corruption courts to support the fight against corruption across the country.
The President said this on Thursday during an interactive session with religious leaders in Kano while on a two-day working visit to the state.
In a statement issued by his Senior Special Adviser on Media and Publicity, Mr Garba Shehu, he said to strengthen judicial integrity and the rule of law, such courts must be manned by "incorruptible judges".
President Buhari also assured the religious leaders that the war against corruption would be prosecuted with the highest regards to due process and respect for human rights.
He, however, asked Nigerians to be patient on the issue, saying that as an elected President he was bound to follow the constitution.
"When I came in uniform as military Head of State, we locked every suspect in Kirikiri Prisons until they proved that they were not guilty.
"Under the Constitution, everyone is innocent until proven guilty; that is the Constitution and we will abide by it," he said.
The President was also concern about the increasing rate of drugs abuse in the country, especially among the younger generation.
He said he has instructed the law enforcement agencies to deal decisively with all those who import, distribute, and sell illicit drugs in Nigeria.
He also assured the religious leaders that his administration was determined to urgent steps to deal with the narcotics challenge facing the nation.
"The Customs is already doing a good job and I'm happy that I got someone who is efficient, strong and trusted to lead it in the person of Hameed Ali, a former governor of Kaduna State," he said.
"I have charged them and other law enforcement agencies to go after those trafficking in illicit drugs that are causing much harm especially among young people."
President Buhari further challenged leaders across the county at to rise to the challenge facing the growing youth population, saying: "Leaders at every level must pay attention to this.
"We must give everything we have including education, vocational skills and training for our large youth population so that they can grow to be responsible citizens."
The President also restated that his administration would ensure increased investment in infrastructure across the country to stimulate the economy and job creation.
He commended the Chinese government for proving the funds for some ongoing projects in the country, including railways, roads and the Mambilla hydro-power project.
President Buhari also welcomed the suggestion from some of the religious leaders for the setting up of a religious advisory committee made up of Muslim and Christian leaders, to meet periodically to advise the government.
Source: Channelstv
'Incorruptible Judges' Will Head Anti-Corruption Courts – Buhari