By Chidi Nkwopara
OWERRI—The palpable crisis rocking Imo State House of Assembly, IMHA, deepened weekend, following the claim by a lawmaker, Mr. Henry Igbomezie that the House has unanimously adopted Governor Rochas Okorocha's son in-law, Chief Uche Nwosu, for the governorship contest in 2019.
The lawmaker's pronouncement not only confirmed the speculation that the Governor was routing for Nwosu to replace him, but has also ignited angry reactions from the citizenry.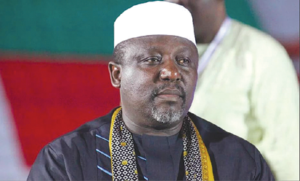 Already, the IMHA Speaker, Chief Acho Ihim, has through his Chief Press Secretary, CPS, Mr. Marcel Ekwezuo, distanced the House from Igbomezie's pronouncement, saying "it is a figment of his imagination."
His words: "It needs to be made clear that at no time did members of Imo State House of Assembly, which comprises elected members of All Progressives Congress, APC, and Peoples Democratic Party, PDP, meet and endorsed Uche Nwosu as their preferred governorship candidate or any person for that matter."
It was the considered opinion of the Speaker that endorsement of candidates for whatever position, was not a legislative assignment, adding that lawmakers were however, at liberty to support any aspirant of their choice.
"It is therefore mindboggling that a lawmaker declared that the 27 members unanimously endorsed Uche Nwosu. IMHA is not in the business of endorsement of political candidates", Ihim said.
While urging Imolites to discountenance Nwadiaro's pronouncements, the Speaker said: "It is the figment of his imagination and has no bearing with Imo House of Assembly and her revered members."
Reacting also, a member of the Media/Publicity Committee of Senator Ifeanyi Araraume's Destiny Organization, Mr. Agunwa Emeka Ezeribe, described the pronouncement as one of the many worn out gimmicks of the Imo State Government.
His words: "Okorocha is presently in a quagmire. The people of Imo State are united in their condemnation and rejection of Okorocha and his unpopular and retrogressive policies, actions and inactions, which have increased the suffering of the betrayed masses of Ndimo, who put him in office.
"Rochas Okorocha is therefore undertaking a last ditch bid to hold on to the fast vanishing vestiges of a lost empire; hence this latest lacklustre propaganda of deliberate disinformation to hoodwink the public through unfounded, misguided rumours."
Source: Vanguard News
Imo House of Assembly crisis deepens