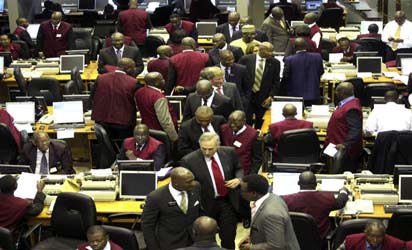 By Peter Egwuatu
Operators in the capital market have identified liquidity constraints as a major factor that has hindered the operations of Market Makers after five years of its commencement on the Nigerian Stock Exchange, NSE.
A Market Maker is any Dealing Member of the NSE who has, after being appointed to do so by the Exchange, undertaken to enhance the market liquidity of a particular security in accordance with NSE rules. The primary role of a Market Maker is to maintain a fair and orderly market in its particular securities of responsibility and, in general, to contribute positively to the operation of the overall market by ensuring that buyers and sellers of securities can transact.
Giving insight on why the market makers operation has remained moribund since 2013 when it was conceived, the President of Association of Issuing Houses of Nigeria, AIHN, Mr. Sonnie Ayere, said: "Lack of liquidity has been a major challenge and until that is addressed the market makers cannot function effectively."
Continuing, he said: "Capital market operators need to have access to liquidity like we have in money market. We need a financial market reforms that will provide a much stronger platform for market based financial intermediation to thrive, and ensure that they are well capitalised and regulated. The Capital Market Master Plan Implementation Committee, CAMMIC, has proposed that the Central Bank of Nigeria, CBN allow capital market institutions with the requisite capital as agreed by the apex bank access to Primary Auctions on behalf of themselves and their customers. If that is done you will see active market makers."
He further explained that that issuance of a combined capital market dealing license by the Central Bank of Nigeria, CBN, to capital market operators will reduce the number of licenses being issued in the financial sector.
"Discount Window access can then be given to market operators to be able to discount for liquidity purposes all instruments normally acceptable to the CBN"' he added.
In the same manner, Vice President and Divisional Head, Corporate Planning, Kaodi Ugoji, noted that the capital market has been affected by illiquidity, lack of regulatory framework and high focus on risk-free securities.
Source: Vanguard News
Illiquidity mars market makers operations in capital market — Operators