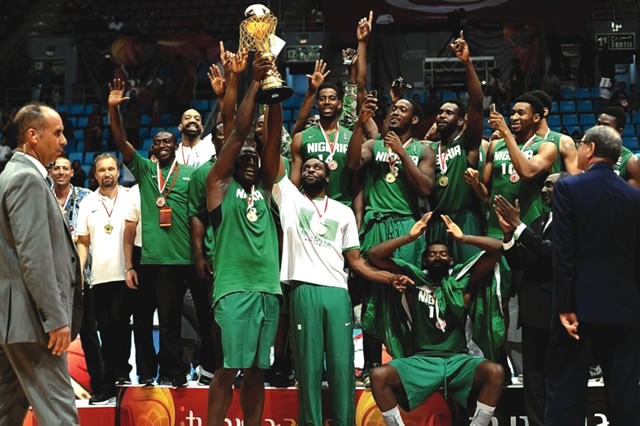 'Tana Aiyejina
The men's national basketball team D'Tigers have dropped six places in the latest FIBA World Rankings released by the world body on Tuesday.
D'Tigers had dropped 10 places from 16th to 26th in November but finished the month in the 32nd position in the rankings, amassing 211.4 points.
The former African champions however retained their place as the continent's number one side.
Angola, 33rd in the rankings with 202.6, retained their second place in Africa despite not moving any step up, while Senegal are third with 178.2 points, and 36th in the global rankings.
African champions Tunisia (125.1 points) are 46th in the world and fourth in Africa. Egypt (51), Ivory Coast (65), Morocco (67) Cameroon (70), Mali (74) and Central African Republic (79) occupy the remaining places in the top 10 positions on the continent.
Meanwhile, former D'Tigers coach Ayodele Bakare has lamented the slide of D'Tigers in the latest FIBA ranking.
Bakare, the first coach to lead the men's basketball team to an Olympics in 2012, expressed sadness over the leadership tussle in the Nigeria Basketball Federation that has seen Tijjani Umar and Musa Ahmadu-Kida running two parallel NBBF boards.
He said, "We were Afrobasket men's champions, but we have dropped to second, we were ranked 16th but we were ranked 26th and now 32nd, Bakare lamented.
"There's nothing that has happened (since the NBBF crisis began) that hasn't happened before. We won the women Afrobasket twice before winning it this year and I was coach on one of those occasions.
"We won the Afrobasket (for men) before and now we came second. The only thing we've done in the last few months that we didn't do before as a country is winning the 3X3 tournament. It wasn't played before now. So, what has been done in the last five months that wasn't done before?"
Speaking further, Bakare said despite repeated communication with the federation, on how the game was being administered, the Ahmadu-Kida-led board had not responded to his letters.
"I don't want to be NBBF president, I'm a coach. But I will tell you the truth. There's been a lot of misinformation and propaganda with very little substance. I hate propaganda. There's nothing wrong with not performing but when you try to present it as if you've done something miraculous, that's what I have a problem with.
"I've been writing letters for two-and-a-half months expressing my fears about the situation. I have written reminders but they keep saying the board will get back to me."
NBBF spokesman Afolabi Oni said they would respond to Bakare's letters once the dilemma in the basketball sector was resolved.
Oni stated, "He has written 12 letters to the NBBF, saying he wants to know how the federation is run and sponsorship. And we assured him that when the situation stabilises, the federation would reply him."
Copyright PUNCH.
All rights reserved. This material, and other digital content on this website, may not be reproduced, published, broadcast, rewritten or redistributed in whole or in part without prior express written permission from PUNCH.
Contact: [email protected]
(Visited 1 times, 1 visits today)
.socialmedia {
margin-bottom:20px;
margin-top:20px;
font-family: 'Open Sans', sans-serif;
}
.socialmedia h3 {
font-size:14px;
margin-bottom:10px;
font-weight:bold;
text-align:left;
}
.socialmedia h3 span {
font-size:14px;
font-weight:normal;
line-height:1.5em;
}
.socialmedia h3 span a {
color:gray;
}
Source: Punch
D'Tigers drop six places in FIBA rankings