By Dapo Akinrefon
FORMER Deputy Speaker of Rivers State House of Assembly, Mr Leyii Kwanee, has accused Governor Nyesom Wike of attempting to politicise the ongoing UNEP clean-up of Ogoniland, even as he challenged the governor to accede the 2019 governorship to the Ogoni if he really cared.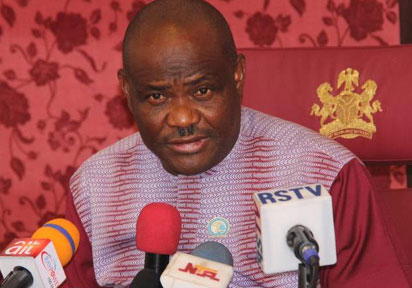 Reacting to Wike's comment on the issue, Kwanee, in a press briefing, faulted Wike's narrative, stating that the clean-up is a gradual process and the President Buhari administration should be lauded for kick-starting the activity and encouraged to do more, rather than being criticised.
Wike had claimed that the Federal Government is unserious with the cleanup of Ogoniland, when he met with members of the Senate Committee on Environment in Port Harcourt, recently.
Kwanee noted that Wike, who served as a member of former President Goodluck Jonathan's cabinet, should have been able to push for the government to implement the clean-up if he had cared enough for Ogoni people and the effects of the pollution they had suffered for years.
He said: "I feel disappointed that Governor Wike would even bring up the issue of the UNEP exercise in Ogoniland, not to talk of criticising the APC government over the process. He had the opportunity of making it happen when he was a Minister under President Jonathan, but he didn't move a limb.
"The process may be slow but the implementation is on. The structure has been set up and I have had cause to visit the coordinator and he has high hopes that the project would be completed."
"Now that the current administration has embarked on the cleanup exercise, I think its best for everyone to support the project for the benefit of Ogoni people.
"If his excellency is telling us that he cares about the Ogoni man, then he should accede the 2019 governorship ticket to an Ogoni man. That is the test of his love for our people," he said.
Kwanee further called on all Ogoni people to support the APC because according to him, that is the way to go now.
"At this point, it is very important for all of us to support the APC and I am calling on all Ogonis to support the APC under the leadership of Rt. Hon Chibuike Rotimi Amaechi. He is a great leader, and he has always had and still has the Ogoni's in his sight as well as all of Rivers state."
Source: Vanguard News
Don't politicise Ogoni clean-up, ex-Deputy Speaker tells Wike