By Festus Ahon
Preparations are in top gear for the first-ever Products Exhibition and Business Fair by beneficiaries of the Delta State Government's Skills Training and Entrepreneurship Programme (STEP) and Youth Agricultural Entrepreneurs Programme (YAGEP). The showpiece event takes place on Wednesday, December 13 and Thursday, December 14 at the Cenotaph, Asaba.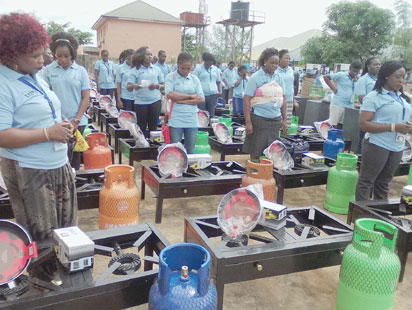 Branded as STEPreneurs and YAGEpreneurs, over 450 of these young business owners are set to showcase their products and services. They were selected from the 2, 324 of previously unemployed graduates and school leavers that were trained and established in various enterprises of their choice by the Governor Ifeanyi Okowa administration.
The journey of these STEPreneurs and YAGEPreneurs began a little over two years ago when the Okowa administration braved the odds to launch a Job Creation Scheme (a.k.a OkowaPlus) with STEP and YAGEP as the two flagship programmes.
It was a move that was greeted with huge dose of scepticism as similar programmes in the past in Delta and other States to redress youth unemployment and stimulate the growth of micro, small and medium scale enterprises often fizzled out in a matter of months after they were announced with fanfare.
During the inauguration of the STEP and YAGEP, Governor Okowa addressed the public cynicism by confidently assuring Deltans that the new programmes would not go the way of previous interventions.
"I am aware," Okowa began, "that there have been similar interventions in the recent history of our State. Unfortunately, these interventions did not deliver on their promises and, therefore, failed to meet the yearnings and aspirations of our people.
Not surprisingly, some people have wondered if we are not just reinventing the wheel or going through the same motions without movement. My answer to that is a resounding NO! We carried out a thorough post-mortem of past initiatives in this regard and designed the Job Creation Scheme to avoid their shortcomings."
According to the Governor, "the underlying difference is the desired end result. While previous programmes sought to prepare people for employment, the job creation scheme seeks to produce wealth creators and job creators.
Critical differences also exist in the selection and screening process, training approach, management system, and collaboration with the organised private sector. In addition, this Scheme is not your typical empowerment programme that is often cash based; it is a job and wealth creation scheme. It is not just about skills acquisition; it is about building a knowledge economy."
The STEP and YAGEP programmes are basically targeted at unemployed graduates and school leavers aged between 18 and 35. After a rigorous selection and screening process, successful applicants are taken through a three-phase training regimen comprising an orientation course, vocational skills training and business management training.
The orientation course focuses on the development of life skills and personal effectiveness while during the second phase participants serve in apprenticeship in an existing business accredited as a training centre. The last phase of the training involves a business and management module to complement the personal effectiveness training.
Beneficiaries under STEP were trained in aluminium works, audio-visual services, barbering, bead and hat making, block moulding, interlocking, PoP, tiling, catering and confectionary, cosmetology, craft/home care products, decoration and event management, electrical installation and repairs, fashion design and tailoring, hair dressing and makeover, ICTs, plumbing, shoe making, upholstery welding and fabrication and auto-mechanic. The Youth Agricultural Entrepreneurs Programme covered aquaculture, poultry, crop production, agro-processing and piggery.
Participants who successfully passed through the three-phase training programme were given various starter packs to start their businesses. In addition they were paced on a monthly stipend for three months, assumed to be the gestation period of the enterprises. During the distribution of starter packs, there were complaints from some of the beneficiaries about the quality of the starter packs.
For instance, Mr Believe Onyeido, a STEPreneur in Electrical Installation and Repairs from Ughelli received a Drilling Machine, a 2900 Sumec Firman Generator, one Adjustable Aluminium Ladder, an Electrical Tool Box, a #50,000.00 Start-up Allowance and a #10,000.00 monthly allowance for three months. "The only thing I did not like about my starter pack," he said "is the manual drilling machine. I would have preferred the electrical drilling machine. Nevertheless, I am grateful."
Overall, the State Government can afford to beat its chest with various testimonies pouring in from the beneficiaries of the Job Creation Scheme. One of them is Cynthia Oma Ehire who established her enterprise in Sapele after she received her starter pack.
"Though it is called Starter Pack, I call it 'life changer' because immediately I collected the Starter Pack, my life changed." In the same vein, Aghogho Oghenekevwde, a YAGEPreneur in fishery has become a success story. "During my National Youth Service Corps (NYSC)," she narrated, "I was involved in an accident through which I sustained a spinal cord injury. I thought all hope was lost, but the Delta State Government through this programme helped me to get out of it."
The Chief Job Creation Officer in the Governor's Office, Professor Eric Eboh credits the success of the Job Creation Scheme to Governor Okowa's vision backed by sound planning, credible selection process and all round design of the training model. "Two years after the launch of the scheme," he enthused "the State is already harvesting its fruits.
A total of 2,324 unemployed youths have been transformed into owners of business enterprises, self-employed individuals and employers of labour. This total includes 1,687 STEPreneurs, 618 YAGEPreneurs and 19 beneficiaries of the newly-introduced Graduate Employment Enhancement Programme (GEEP). In line with the Governor's principle of inclusiveness, STEP and YAGEP beneficiaries comprise males 64% and females 36% and include fifty one (51) Persons with Disabilities (PwDs)."
As the State prepares to host the STEP and YAGEP Product Exhibition and Business Fair, the question on the minds of many is how far and how long the Government can sustain these programmes. Virtually all the beneficiaries Vanguard spoke to were unanimous in calling for the sustenance of the job creation programmes.
They added that the State Government should incorporate a strong monitoring mechanism to check abuses and fraud in the system. For Henry Onogide, a STEPreneur in Welding and Fabrication, "my passionate appeal goes to our youths. They should acquire skills and stop begging and depending on others. They can become independent in order to assist their families and contribute to the development of Delta State in particular and Nigeria in general."
Source: Vanguard News
Delta: The gains of OkowaPlus