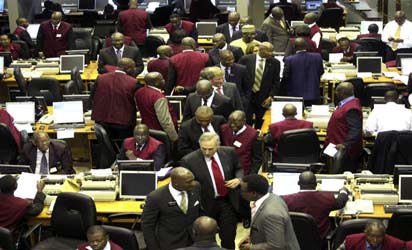 Stanbic IBTC, ARM Securities, SCM Capital lead laggards
AXA Mansard, FBN, Legacy Equity top chart
As Money Market Funds record huge profit
By Nkiruka Nnorom
ACTIVITIES of the Collective Investment Schemes, CIS, in the nation's capital market have continued to worsen, aggravated by the woeful performance of the Equity-Based Funds (EBFs).
Current data at the Securities and Exchange Commission, SEC, showed that the investment window, especially the EBFs, which is basically collective investment in equities, has not benefited from the recent rally in the capital market, a development which, according to market watchers, reflects increased investors' apathy for mutual funds.
Financial Vanguard's inquest into the activities of fund managers during the 11 months of 2017, showed that the EBFs, recorded marginal 4.9 percent increase in asset value (or return on the investments) year-to-date, YtD (between January 6, 2017 and November 10, 2017), thereby failing to reflect the momentous growth of 39.5 percent in the Nigerian Stock Exchange All Share Index,NSE ASI, within the 11 month period.
Specifically, the EBFs peaked at N13.715 billion as at November 10, from N13.077 billion in January 6, 2017.
Individual Funds performance
Analysis of activities of the fund managers showed that Stanbic IBTC Nigerian Equity Fund, managed by Stanbic IBTC Asset Management Limited, ARM Aggressive Growth Fund , managed by Asset & Resources Management Company Limited and Frontier Funds managed by SCM Capital topped the laggards' chart, dulling the overall performance of the equity funds during the period.
Money market funds dominant
However, the Money Market Funds (MMFs), which is typically, investment in government securities -Treasury Bills, TBs, and other fixed income securities – recorded a massive increase, reflecting the huge appetite demonstrated towards government securities by the investing public.
Financial Vanguard's checks showed that the value of investment in MMFs grew by huge 135 percent to settle at N265.562 billion on November 10, 2017 as against N112.984 billion in January, 2017.
Operators and investors alike agree that patronage to CIS has not been good for different reasons.
According to Stanbic IBTC Asset Management, SIAML, in an emailed response to Financial Vanguard, the decrease in the Net Asset Value, NAV, of the EBFs is chiefly due to significant withdrawals from the Funds during the year.
The company signified that the segment of the capital market may still be battling with the effect of the 2007/2008 global capital market crash and the attendant erosion of investors' confidence.
However, minority shareholders listed some of the problems bedevilling the asset class to include low return-on-investment, RoI, lack of enabling law to protect investors and poor awareness campaign on the part of the fund managers.
Stanbic IBTC worst performer
The Stanbic IBTC Nigerian Equity Fund recorded the worst performance, declining by 7.96 percent to N6.997 billion by November 10, 2017 from N7.583 billion in January.
This was followed by ARM Aggressive Growth Fund, which recorded a growth of 12.4 per cent to N3.075 billion from N2.736 billion during the 11 month period, while Frontier Funds was up 16.6 percent to N248.345 million from N212.913 million.
Although still below stock market performance, United Capital Equity Fund, managed by United Capital Asset Management rose significantly by 27.9 percent to N1.394 billion from N1.090 billion in January 2017.
On the other hand, Axamansard Equity Investment Fund, managed by Axamansard Investment Ltd topped the other equity funds in percentage terms rising by 98.2 percent to N213.179 million from N107.555 million in January 2017.
FBN Nigeria Smart Beta Equity Fund managed by FBN Capital Asset Management, ranked second with 86 percent growth to N292.968 million compared to N157.539 million posted in January, while Legacy Equity Fund managed by First City Asset Management ranked third with 49.4 percent increase to N713.083 million from N477.412 million.
Money Market Funds in epic rise
Though the MMFs performed outstandingly impressive, some entities still failed to record significant growth. A breakdown shows that Aiico Money Market Fund, managed by Aiico Capital came behind other players, increasing in value to N695.246 million from N654.523 million in January 2017, a mere 6.2 percent growth in a market that saw over 130 percent sector average growth, with top performers at over 930 percent growth.
This was followed by Meristem Money Market Fund, managed by Meristem Wealth Management. Meristem Money Market Fund rose marginally by 18.7 percent to close the period at N424.863 million from N357.940 million.
Greenwich Plus Money Market Fund, managed by Greenwich Asset Management with a value of N1.693 billion in November from N1.415 billion in January, recording 19.6 percent growth and coming third on the list of laggards.
On the other hand, United Capital Money Market Fund, managed by United Capital Asset Management outperformed all other money market funds with huge 930.4 percent increase to close at N3.863 billion from N374.835 billion,while Cordros Money Market Fund, managed by Cordros Asset Management came far next with 345.5 percent increase to N2.517 billion from N565.782 million at the beginning of the year.
Axamansard Money Market Fund ranked third with 238.4 percent, appreciating to N9.022 billion from N2.666 billion.
Also in the top performing money market fund is FBN Money Market Fund, which recorded 155.5 percent growth to N65.063 billion from N25.468 billion in January.
Why poor performances in EBFs –Stakeholders
Reacting to some poor performances in the EBFs, Mr. Patrick Ajudua, National Chairman, New Dimension Shareholders Association, NDSA, said that though the scheme is not new to investors, lack of awareness and enlightenment on the part of the operators of the system contributes to the poor performance in the Funds.
He opined that the accruable interest on funds is not attractive to retail investors, who are interested in short term returns.
Ajudua observed that duration of the Funds and maturity could pose another challenge as "retail investors are always impatience with the long term maturity date of funds.
On RoI, he said: "The return on investment under the Money market Fund is more durable, predetermined and certain as contained in the agreed terms of offer unlike the equity market which is subject to market demand and supply and full of uncertainty and instability.
Contributing, Ambassador Olufemi Timothy, former president, Renaissance Shareholders Association of Nigeria, said that apart from absence of laws to protect investors venturing into collective investment schemes, return-on-investment in CIS is low compared to direct investment in equities.
He emphasised that accounts of the Funds are not open to scrutiny as the managers do not publish their statement of account like conventional companies.
"For us, we believe that the system is not transparent. Anything that is not bound by open law, retail investors will not go there. Fund managers are rarely accountable.
Once you buy into them, you don't see them again; they are not visible like the conventional companies where you go for Annual General Meetings, AGMs, and challenge their results. They may not hold AGM for five years and you won't even know where to go. For us, their accountability level is zero," he said.
He called on the relevant regulatory agencies to publicise the law guiding investment in the EBFs.
"We don't patronise them because we don't understand them. Their laws are not operated under Companies and Allied Matters Act, CAMA, so you don't see where to hold them. You don't know your right under fund managers. They should let us know the rules that protect investors," he added.
The way forward
The president, Fund Managers Association of Nigeria, FMAN, Mrs. Ore Sofekun, said in a chat with Financial Vanguard that the association is taking decisive steps to address the problems. She stated that actions are been taken to increase availability of information on collective investment scheme to improve patronage.
She stated that FMAN is collaborating with the stockbrokers to educate their clients on mutual funds and also sell mutual funds to them.
On the way forward,Stanbic IBTC, said that more investors' awareness and communication about the role of equity based collective investment schemes in medium to long term financial planning and wealth building would enhance the overall performance of the Funds.
Stanbic IBTC opined that investors' interest in the equity based funds would improve with a consistent year-on-year positive returns in the equities market.
"We expect to continue to see growth in the Collective investment scheme as macro conditions improve and awareness about the benefits of Collective investment scheme increase," the company said.
Source: Vanguard News
Collective Investment Schemes in 2017: Equity-Based Funds in woeful performance