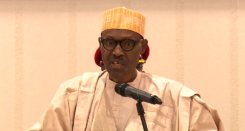 President Muhammadu Buhari is currently meeting with members of the Kano business community, traditional rulers and politicians in Kano State, in order to obtain complaints on behalf of residents of the state.
At the town hall meeting, the Emir of Kano, Muhammadu Sanusi (II), commended president Buhari's efforts in the areas of fighting corruption, security and the revival of the nation's economy.
The Emir was, however, concerned about an alleged increase in cases of drug abuse in the state among youths, especially cough syrups with codeine.
He also highlighted the increase in food importtion across the Nigerian boarders, and called on the Presdient to intensify efforts towards preventing such.
Sanusi stated that there is a need to ensure a proper synergy between ECOWAS member countries, in order to ensure that Nigerian boarders are carefully looked after to prevent illegal importation into the country.
On his part, President Buhari who traveled for the working visit on Wednesday, asked Nigerians to continue to exercise patience as his administration is working tirelessly to revive the nation's economy.
Speaking further, he also assured the people of Kano state that his administration will complete all the federal government abandoned projects, adding that new ones will be initiated very soon.
Source: Channelstv
Buhari Meets With Kano Business Community