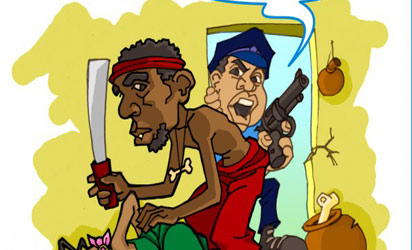 By Umar Yusuf
YOLA—Bachama Cultural Organisation, Pene Da Bwatiye, in Adamawa State, yesterday, called for judicial panel of inquiry into the attacks on the people by herdsmen.
It also accused the Nigerian Air Force of complicity in the recent attacks in Numan and Demsa Local Government areas.
Spokesman of the group, Mr. Griffith Kpakai, who spoke on behalf of the National President, Prince Hezron Fada, explained "it is becoming increasingly clear that there is a programme to annihilate or subjugate Bwatiye nation.
"This has been confirmed by the skirmishes in Koh, Kondomon, Kwayine and several Bwatiye communities in the past without prosecution in any court of law."
He said the random killings by herdsmen bearing advanced military hardware, including AK-47 rifle, sub-machine guns and rocket-propelled grenades, had been noticed in increasing numbers, indicating involvement of highly technical people.
He said: "We call on the Federal Government to identify those behind the crimes and prosecute them accordingly."
Source: Vanguard News
Bachama group calls for judicial probe of Numan killings