By Dayo Johnson
Akungba-Akoko—CHAIRMAN of the APC Governors' Forum and Governor of Imo State, Owelle Rochas Okorocha, weekend, said that the defection of former Vice President Atiku Abubakar to the Peoples Democratic Pary, PDP, was not the best for the APC.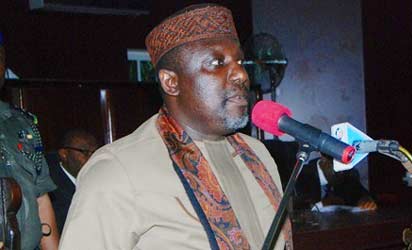 Okorocha also chided the National Leader of the party, Asiwaju Bola Tinubu for his outburst that governors in the party cannot endorse President Muhammadu Buhari for a second term in office without conducting a primary election.
He spoke with newsmen in Akungba after he was conferred with an honorary award of Doctor of Letters, Honourary Causa by the Adekunle Ajasin University, Akungba, Akoko, Ondo state.
Responding to a question on Atiku's defection to the PDP, Okorocha said "l have taken a holistic view of our party; it is not the best because no matter how anybody thinks, Atiku carries some political weight.
"Atiku leaving our party is not the best. But all said and done, since he has forged ahead by going to another political party, we will make amends and his place will be filled up accordingly."
On Tinubu's statement that APC governors have no right to endorse the president for a second term, he declared that "the statement credited to our National Leader came to me as a surprise, come to think of it, I never referred to him."
He said: "l referred to the governors of Nigeria including the PDP and I said only one or two of them have not joined yet.
"Since I made the statement, no governor has said something contrary to what I said. I am surprised that Asiwaju will now be speaking for the governors.
"He looks like somebody crying more than the bereaved. I do not see the reason for the statement actually.
"But he commands my respect and I don't want to join issues with the National Leader of my party. What I mentioned was for the governors and secondly what I said is support.
"The word I used is the support, that does not mean there will not be a primary election. Governors can only contribute only 37 votes; we still have over 5,000 votes up there.
"What I was talking about was governors; I was not talking about other party members. Governors alone do not determine the flag-bearer of a party.
Speaking on the PDP convention, Okorocha said "There is nothing to be jittery about the outcome of the PDP convention. We are confident that our presidential candidate to be; President Buhari is up to the task.
"He has an impeccable track record that it would take an unusual presidential candidate of a rival political party to match him. This is the strength of our party coupled with the fact that APC governors are performing, we are sure we will deliver 2019."
Meanwhile, the Vice-Chancellor of the University, Prof Igbekele Ajibefun cited the issue of poor funding as one major challenge facing the institution.
Source: Vanguard News
Atiku leaving APC not the best — Okorocha