Argentina captain Lionel Messi believes they need to improve if they are to stand a chance of winning next year's FIFA World Cup in Russia.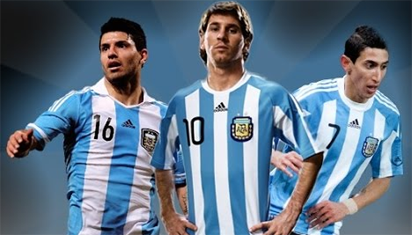 Argentina, who reached the final in 2014, struggled during qualification for Russia, going through three coaches before securing their place at the tournament.
And it was all thanks to a Messi hat-trick in a 3-1 win away to Ecuador in the final qualifier.
Messi's side will kick off their World Cup campaign against Iceland on June 16, before facing Croatia and Nigeria in their other group stage fixtures.
Next year's tournament may be the last chance for the 30-year-old Messi to win a major trophy with Argentina and the FC Barcelona forward is already concerned.
He says they need to make changes in order to overcome more fancied countries.
"We had a difficult time (in qualifying), but we had our moments," Messi said.
"But it's true that we need to improve if we want to be world champions. Right now we're not far off, but there are better sides than us, such as Brazil, Germany, France and Spain."
As well as losing to Germany in the 2014 World Cup final, Argentina were also defeated by Chile in successive Copa America finals in 2015 and 2016.
Messi, however, believes they should have celebrated at least two victories.
"I never went back over the finals (we lost). We deserved to win them, in spite of not playing that well. We still had the best chances, both in the World Cup and Copa America," he said.
"I'd have to watch them again to see what we didn't get right in order not to win them. But right here I believe we should have won at least two of them."
Messi and his team mates have had a tumultuous relationship with the Argentine media, boycotting them 12-months ago due to what the national team perceived as unfair treatment.
He said that media criticism has created a culture of fear within the squad.
"Criticism went above and beyond what is normal and became personal," he said.
"The bitterness we feel is because we know what's coming if things don't go well for us. People want results and if they don't get them, they want to see fresh blood. We don't feel that way."
Source: Vanguard News
Argentina must improve to succeed at Russia 2018- Messi