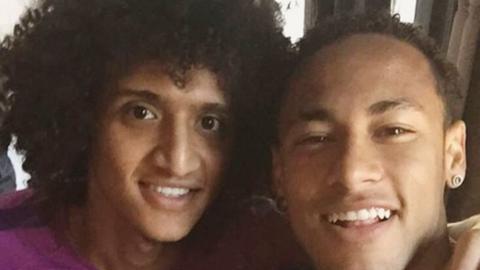 He has almost a million Instagram followers, shared the front cover of a computer game with Neymar and once had a trial with Manchester City.
They call him "the Arabian Messi" and his trademark hair has been copied by fans all over the region.
Is Omar Abdulrahman the best footballer you've never heard of?
What's his story then?
The 26-year-old attacking midfielder plays his football for United Arab Emirates club side Al Ain and the Emirati national team.
This year, FourFourTwo Asia named him ahead of Tottenham's Son Heung-min and Leicester's Shinji Okazaki as Asia's best player.
He made the three-man shortlist for Asian Player of the Year for the past three seasons, winning in 2016. Last week he lost out to Syrian Omar Khribin for the 2017 award.
You may have spotted his silky skills and at the 2012 London Olympics, where Daniel Sturridge told him he was talented enough to play in Europe, Luis Suarez asked to swaps shirts and Ryan Giggs sought him out after their match against Great Britain to pass him his jersey.
And the combination of a YouTube library of skills and his David Luiz-style hair has turned him into a superstar in Asia, on and off the pitch.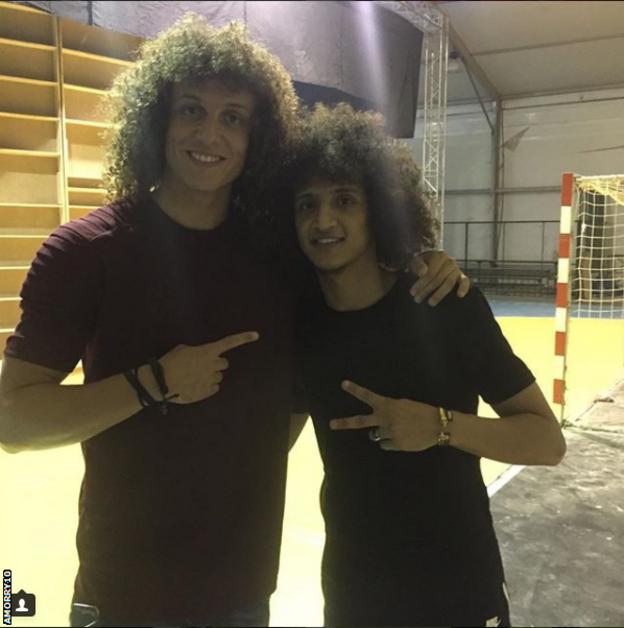 Neymar, Zidane, Davids, Luiz and a viral Panenka
In the UAE he adorns billboards, advertising major brands and has a sponsorship deal with Nike.
Abdulrahman was on the front cover of the Middle East version of Pro Evolution Soccer 2016, alongside Neymar. As part of the video game's promotion, he recorded a video for YouTube performing tricks with the F2 Freestylers. It has close to five million views.
He also went viral last December when, playing as a guest for Saudi Arabia's Al Ahli against Barcelona in a friendly, in Qatar, he dinked a 'Panenka' penalty past Jordi Masip in the Barcelona goal. It mirrored his effort in a penalty shootout against Japan in the 2015 Asian Cup quarter-final.
Highlights of a 2015 five-a-side tournament in Dubai, where he played against Zinedine Zidane, Edgar Davids and Michel Salgado, have attracted 2.4m views on YouTube.
"I loved to watch Zinedine Zidane, he made football look so simple," Abdulrahman told FourFourTwo. "I wanted to try to copy what I saw from him on the pitch."
Just how good is he?
"In my opinion he can play in any league in Europe. Everything he does when he gets the ball alerts the whole stadium because you can expect something good is coming up. He's a fantastic player." – Henk ten Cate, the former Ajax, Barcelona and Chelsea coach who now manages UAE champions Al Jazira.
"Omar Abdulrahman can play in any part of the world."– Javier Aguirre, the former Japan, Mexico and Atletico Madrid manager, and most recently of Abu Dhabi's Al Wahda.
"Omar is special… when we need him, he does something. Because he's Omar, simply the best." – Zlatko Dalic, then Al Ain manager and now in charge of Croatia.
"Al Ain have, for me, absolutely the best player in Asia. He is an unbelievable player. I love him a lot, but it's not only me. All coaches want a player like him." – Sabri Lamouchi, former Inter Milan and Parma midfielder, then manager of Qatari club El Jaish.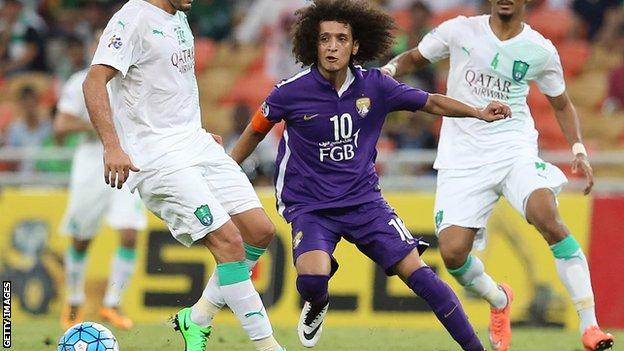 A talent formed on the streets of Riyadh
Born in 1991 in Riyadh to Yemeni parents, Abdulrahman grew up playing street football alongside his brothers Ahmed, Mohammed and Khalid.
Abdulrahman was first spotted by Al Hilal, the Saudi Arabian giants, but Al Ain offered a superior package: the perks of UAE citizenship, not only to Abdulrahman but to his entire family. Noting his brothers had talent, too, they recruited midfielder Mohammed and left-back Khalid.
Omar broke into the Al Ain team in 2009 and has won a host of trophies in UAE football, including three league titles, as well as leading his club to the Asian Champions League final in 2016 against South Korea's Jeonbuk Hyundai Motors.
He was the UAE's star man when they came third in 2015 Asian Cup, their best result on foreign soil.
If he's that good, why isn't he playing in Europe?
"Honestly, it was an amazing experience," he said of his trial at the Etihad Stadium in 2012. "Not everyone gets the chance to train with the champions of England.
"Once Kolo Toure saw me he asked 'are you the UAE player?' and I was surprised he even knew me. He told me 'you have the skill and the potential and are here to sign a contract'. And I told him 'Inshallah, I hope to… if things go well.'"
Work permit issues are understood to have stopped any potential move.
Also in 2012, Abdulrahman said he rejected a loan offer from Benfica and this summer Nice attempted to take him on loan, promising the playmaker the chance to compete in the Uefa Champions League should they negotiate the play-offs. The deal never went through.
"There have been offers, some potential opportunities in Europe," he said. "But Al Ain really wanted me to stay so the chance to move has not really been there."
Abdulrahman's situation is complex. Al Ain, like all UAE sides, function under the patronage of a sheikh and the club has previously been reluctant to let him leave.
Until now, no Emirati has played permanently outside the UAE, and in the past players from the Gulf have disappointed abroad. Sami Al Jaber, the Saudi Arabia striker, played four games for Wolves in 2000.
Xavi, the former Barcelona captain now playing his final season in Qatar, said: "It is important for him, for Arab players, for the country also, to play abroad in the future, to be a competitive country. Omar can be a pioneer and make it easier for others to follow."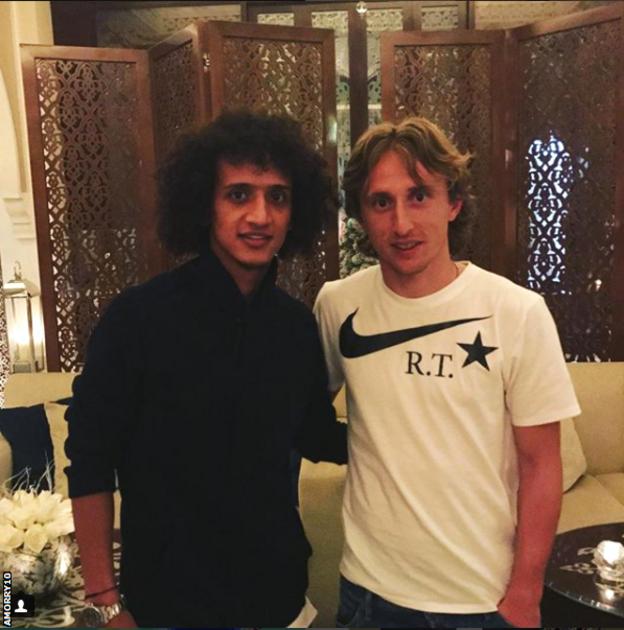 Source: BBC SPORTS
'Arabian Messi' – the best footballer you've never heard of?