Says APC states facing retardation as PDP states running better
By Anayo Okoli.
UMUAHIA— The ruling All Progressives Congress, APC, is systematically destroying the foundation laid by the Peoples Democratic Party, PDP for the economic and political growth of Nigeria, Chief Raymond Dokpesi, a candidate for the office of national chairman of the PDP has said.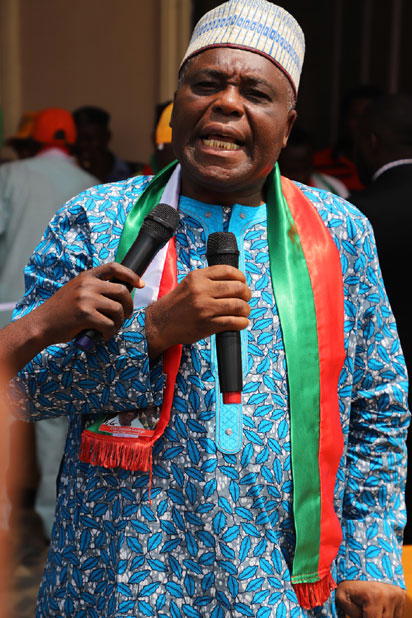 Dokpesi who spoke while a campaign visit to the Abia State chapter of the party late on Tuesday maintained that contrary to what he described as the vicious propaganda of the APC, a solid foundation for growth was laid by PDP in its 16 years in power.
According to him, rather than building on the foundation laid by the PDP, the ruling APC has been busy destroying what it met on ground.
The APC administration, Dokpesi alleged, has been destroying the fabrics of national growth, unity and cohesion and "everybody is now weeping" because they were deceived accepting the deceptive change mantra.
He also faulted APC's war on corruption, insisting that it was fraught with insincerity, double standard and pretence, and cited the controversy surrounding former pension task force boss, Abdulrashid Maina to support his position.
According to him, senior government officials including ministers and presidency officials were involved in the cover-up.
Dokpesi said that things have become so bad in the nation that APC controlled states "are experiencing retardation" while states run by PDP are doing far better, pointing that it shows that APC could never perform better than PDP.
The chairmanship aspirant said there was need to rebuild, rejuvenate, reconstruct and rebrand the PDP and said that he remained the best qualified to reposition the party.
"Any mistake we make in 2019 not to take PDP back to power will be a total disaster. We have to collectively come together to solve the problems of our party", Dokpesi declared.
According to him, the South West zone which has seven out of the nine chairmanship aspirants was not best suited for the office and dismissed his only challenger from the South-South zone, Prince Uche Secondus as not capable of leading a rebranded PDP.
Dokpesi explained that electing Secondus was "like putting old wine in new bottle" as he was part of the old leadership of the party.
Source: Vanguard News
APC destroying Nigeria, Dokpesi cries out