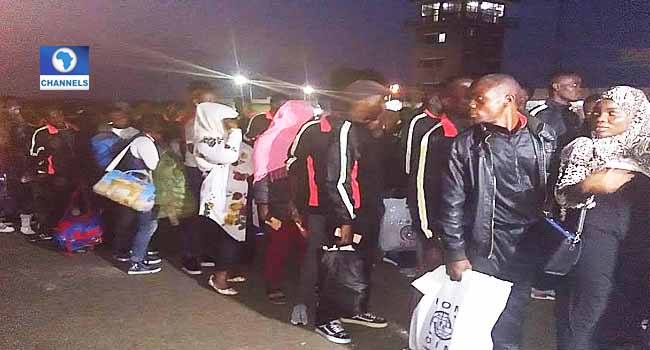 The number of stranded Nigerians that are voluntarily returning from Libya has risen to 401 after the arrival of 257 persons.
They arrived at the Murtala Mohammed International Airport in Lagos at about 1:30 am on Wednesday, following the arrival of the first batch of 144 Nigerians.
The first set of returnees, who arrived at the cargo area of the airport aboard a Boeing 737 aircraft on Tuesday night, consists of 39 female, 97 male, two children and six infants.
READ ALSO: 144 Nigerians Return From Libya
The voluntary repatriation of the 401 persons was facilitated by the International Organisation for Migration (IOM) and the European Union with help of the Nigerian Embassy in Libya.
They were received by the Senior Special Assistant to the President on Foreign Affairs and Diaspora, Mrs Abike Dabiri, as well as officials of the National Emergency Management Agency (NEMA) among others.
Their repartition followed reports of slave trading of Africans in Libya which sparked criticism from several African leaders and the international community.
According to the reports, the migrants who attempt to cross the Mediterranean Sea to the European shores are placed in detention centers across Tripoli, leaving most of them with the option of returning to their home countries.
About 600,000 migrants have reached Italy by sea from North Africa since 2014 while more than 12,000 have died in the process.
Source: Channelstv
Another 257 Nigerians Return From Libya