A state high court, Ado Ekiti, has okayed the Judicial Commission of enquiry currently probing alleged misappropriation of funds leveled against ex-governor Kayode Fayemi during his administration as governor of the state between 2010 and 2014.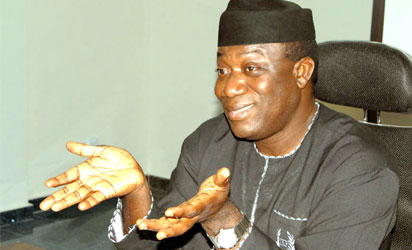 Recall that the Ekiti State House of Assembly had directed the state government to set up a panel of enquiry into the alleged misappropriation of funds after the ex-governor had failed to show up for three consecutive times he was invited for clarifications on the allegations by the Assembly.
Governor Ayo Fayose, acting on the constitutional directive handed to him by the Assembly had constituted the Judicial Commission of Enquiry on June 3, the Commission was head by retired Justice Silas Oyewole.
The commission had since began its judicial sittings and revealing other alleged mind boggling shady deals during the ex-governor's tenure.
But in reaction, Fayemi had, through his counsel, Akingbade Ojomoyela, filed an application praying the court to stop the judicial probe. Fayemi had stated that the state governor had no power to set up the Commission of inquiry and that the panel would be based against him because of its composition.
In his judgement today, the trial judge, Justice Lekan Ogunmoye, ruled : " the Executive Governor of the state, in pursuant to the 1999 constitution as amended, reserved the powers to set up a judicial commission of inquiry to probe any alleged misappropriation of funds and related allegations and that the former governor had no concrete evidence of bias in the composition of membership of ythe Commission."
Justice Ogunmoye also held that the state Assembly overstepped its bounds in some sections of the law that established it to summon persons or institutions on financial misappropriation but dismissed some of the reliefs asked for by the former governor on grounds that they were not enough to nullify the composition of the judicial commission of enquiry to probe his four year tenure.
The judge therefore okayed the probe panel to continue sitting.
Addressing reporters on the development, counsel to the state government, Asana Sunday, said: "The Ekiti State High Court of Justice delivered Judgment earlier today 6/12/17 in the suit of Dr. J.K. Fayemi V. Gov. Ekiti State on subject of the validity of the Judicial Commission of Inquiry instituted by the State Govt. into the activities of the State Govt. between 2010 & 2014.The Hon. Court granted Dr. Fayemi's Relief nos. 1, 2, 4, 5, 8, 13 which sought Declaration that House of Assembly lacks vires to direct Mr. Governor to set up the Commission of Inquiry but agreed with us that under Section 2 of the Commission of Inquiry Law, Mr. Governor has vires to set up the Commission without the prompting of the House of Assembly and that he properly so acted. Accordingly, all other Reliefs seeking to set aside & perpetually restrain the Commission were dismissed."
Source: Vanguard News
Alleged graft: Court dismisses Fayemi's suit against Ekiti's Judicial Commission of enquiry