By Solomon Nwoke
NIGERIA Wrestling Federation (NWF) president, Dr Daniel Igali has expressed satisfaction with the performances of the wrestlers at the Governor Nyesom Wike Wrestling championship, which ended last weekend in Port Harcourt. He also commended the Rivers State governor, for his enormous support to the federation.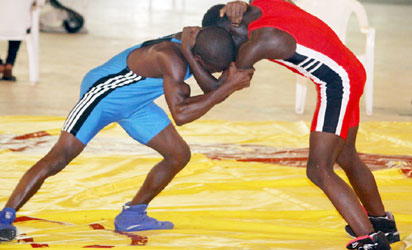 Appraising the wrestlers' performances last weekend, Dr Igali said, " I am satisfied with the performance of the athletes, there was keen competition amongst them. In my view the Gov Nyesom Wike National Wrestling Championship went extremely well.
"The number of wrestlers that participated was very commendable. Having about 700 wrestlers was almostdouble the number of athletes we normally have in every other championship being that other championships were not full cadet and junior.
" Overall, everybody gave a good account of themselves. And almost all the national athletes moved up except a few ones that their weight classes are stagnant. Blessing Oborodudu moved from 63kg to 68kg, Aminat Adeniyi moved from 58kg to 62kg, Odunayo Adekuoroye from 55 kg to 57kg virtually all of them and in wrestling, one or two kilograms move could be major for you."
Dr Igali said the federation hopes to invite about 200 wrestlers to camp (which includes a full squad from the Cadet, Junior, Female wrestling, Greco Roman and Senior) after they have rested for a week.
He however warned that it's not yet uhuru for the wrestlers who came first in their various weight categories to make the list of athletes to represent Nigeria at the African Championships next February in Port Harcourt.
"We will present nine national teams at the African championships with head coaches and assistant coaches for cadet ( Greco Roman, female and freestyle), junior, Female wrestling and senior in the same events.
We should be looking up to a full team of 90 athletes and hopefully, two training partners. So nothing less than 180 athletes in camp which is a major figure to manage.
We will also be looking up to inviting two coaches per style which is a little less than 18 coaches, we will need doctors and physiotherapist , camp managers and by the time you know it, we're having up to 200 people in camp. So it's something that is going to be expensive. It won't be cheap at all and so we do really need the support of the state and federal government to be successful in this."
Source: Vanguard News
African Wrestling Championship: NWF invites 200 for camping