By Prisca Sam-Duru
"Women should not die because they are pregnant and people should get enough information necessary to stop the unnecessary deaths." Those were the words of Dr Adegboyega Akenroye, during a free medical outreach in Ondo State.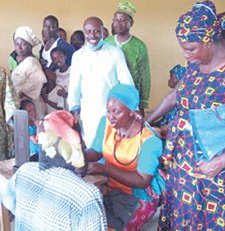 Ilutitun community in Okitipupa Local Government Area of Ondo State is still enjoying the benefits of a two-day health awareness and free medical services program held recently in the state.
Organised by BalmGilead Life Support, the free medical services was in honour of Madam Victoria Aderemilekun Akenroye who lost her life at a very young age due to complications during childbirth.
The initiator of the outreach, Dr. Adegboyega Akenroye, said the outreach was in honour of his late mother, explaining that, "My mother lost her life 50 years ago as a result of complications from childbirth and it was challenging growing up without a mother, though my father was supportive. My mother was in labour for three days and three nights because the baby was breached and there was no available medical facilities and personnel on time that could have saved both mother and child."
Akenroye, who heads BalmGilead Hospital in Lagos, regrets that "50 years after, maternal mortality rates still remain high. "Women should not die because they are pregnant and people should get enough information necessary to stop the unnecessary deaths. That is why we are raising a foundation in remembrance of my mother. It is wrong that many women still die out of ignorance to access the available medical facilities and to utilize them, he said."
Participants trooped out in their hundreds to the Comprehensive High School, Ilutitun venue of the health outreach as early as 7am to take advantage of the services. About one thousand people came for the free treatment that included check-ups for blood pressure, blood sugar level, BMI, and treatment of various diseases. There were free surgical operations while free medicated eye glasses were handed out as well. There were also counseling services.
On the various ailments treated, Akenroye said the "medical team encountered different cases. "There are cases needing surgical intervention. We had cases of hernia, infertility, fibroids, dental cases among others. Many malaria and bacteria infection cases were also treated. Some have chronic diseases, like arthritis, diabetes, hypertension, insomnia and geriatric diseases and were assisted. A lot of people with high blood pressure, and other chronic diseases were screened, counseled and treated for the first time. This program has helped them to know their health status," he stated.
He also lamented the ignorance the people live with regarding their health. "There is a major problem while the people are not aware of what the hospitals have in stock. We had to educate them about medical facilities we have brought. Many in the community had problem with going to hospitals to get information about their health and available health provisions."
Dr Akenroye recalled how his mother died young because of delay in accessing medical facilities. "She was in labour for three days and three nights because they could not even transport her to where to get medical assistance. Even when she was eventually transported to the general hospital, the only doctor had travelled. She had to wait for another 24 hours to get the emergency treatment she needed. However, despite a surgical intervention, she lost her life due to post-operative complications."
"Unfortunately, even 50 years after, according to the statistics available there are about 5,000 mothers that still died after child birth last year and those were the ones reported."
Also helping out at the health outreach was a retired Chief Medical Consultant at the Ondo State Specialist Hospital Akure, Dr. Manuwa Idowu Akenroye and Dr Ilesami Ogunsuyi, the director of Medical services at the Federal Prisons in Ondo State.
The Consultant and uncle to the initiator of the project added that, "Dr. Akenroye's mother died during child birth when he was a little boy. Fortunately I was with him I know the story and when he turned around and told me he wants to do this I said that is a good thought and I wish him well.
"The program is about preventing mothers and children from dying. To me if we can dedicate a day every year to remember this woman with this kind of event, it is worth it."
Mrs. Monisola Akenroye, an accountant and wife of the initiator of the project who was deeply involved in the planning, expressed satisfaction and fulfillment at the success of the outreach. ""I feel fulfilled I know that what we are doing now is exactly what God really wants us to do. This is not the first outreach but this is the first major one because we have had series of outreaches in America where we raised funds for children living with cancer. We have also raised funds for St. Joseph's home, a motherless babies home, and for abandoned mothers' homes. We have been doing it in our small ways but this is the first major outing and we are thrilled about the outcome'. She promised that it would henceforth be a regular event.
On the NGO's future plan, she revealed that, "What we intend to do is to put up a mother and child health centre. Not really a full-fledged hospital but somewhere they can get them information awareness on what is going on. Majorly we intend to have an ambulance service so that in case of emergency they can easily use it to move people around to the nearest hospital."
One of the beneficiaries Mrs. Grace Daso, 75, a retired teacher expressed appreciation for the initiative. "I thank the organisers for this kind gesture. I have been battling an eye defect and this is coming at the right time.
The remembrance events which was kick-started with a thanksgiving and launch of the Victoria Aderemelekun Akenroye Foundation on November 12 (including the launch of her biography titled The Ultimate Sacrifice at the Redeemed Christian Church of God (Grace Sanctuary) in Lagos, followed by the medical outreach on 17th and 18th November, climaxed with a two –day gospel crusade at Ilutitun.
Source: Vanguard News
50 yrs after, doctor honour's mom with free medical services to curb maternal mortality