After escaping conflict in South Sudan, many teenagers now find themselves left with the responsibility of caring for their families in a foreign land.
From fetching firewood and water, adolescent girls have also taken up parental roles. They are responsible for younger children in the absence of parents killed in conflict or separated from their families.
At the Bidi bidi refugee settlement in Uganda's northern Yumbe district, Agnes Sida who lost her parents while still in South Sudan is now the head of the household.
She managed to flee to Uganda with her siblings but lost her baby to malaria shortly after they arrived in the country.
The 17-year-old is one of thousands of girls now forced to be caregivers.
"My mind will not settle, I keep on crying, thinking of the baby, thinking of my future, how it could be. I left school I did not sit for this test for this first term. Now these days I'm sitting at home," said Sida.
The UN children's agency, UNICEF and its partners have set up a programme to help teenagers engage in activities like poetry and singing and discuss issues affecting them.
The forum is meant to provide the girls with a social support system, teach them life skills, and help them access toiletries like sanitary pads and soap.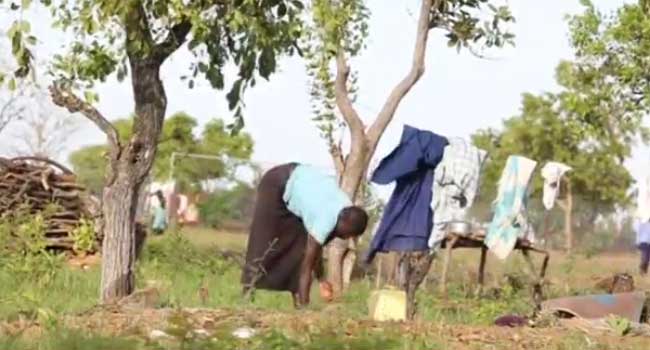 Agencies say children and teenagers are often at risk of abuse, neglect, violence, exploitation and trafficking while in exile.
South Sudan's civil war erupted out of political infighting in late 2013; just two years after South Sudan declared independence from Sudan and took over running its own affairs.
Since then, nearly two million people have fled fighting that the United Nations has said amounts in some areas to ethnic cleansing.
The United Nations has called on South Sudan's leaders to take more responsibility for stemming the world's fastest growing refugee crisis and enable millions to go back home and rebuild.
"If I study very hard I will become an accountant, maybe I will not call for money from them and now I'm educated. I will tell them I'm now educated — I'll help some of the neighbours also because before I was helped by people, let me also help them," said South Sudanese Refugee, Hellen Lavina.
"They work with the mentors, a mentor has 18 girls. Those 18 girls get to know each other, and we think that this friendship this social network can be for the long term. And then we have done the go back to school campaign because we found out that many of them were school drop outs and we would like them to go back to school. We want these girls to acquire an education – an education that can help them to shape their future," said Faidah Ded Obombasa, a life skills assistant.
In the meantime, Uganda is facing difficulties in coping with the influx of refugees arriving in the country every day.
The east African country hosts 1.2 million refugees, of which about 800,000 are South Sudanese who fled the world's youngest country.
Hunger has also compounded the country's problems, with 5.5 million people in need of food.
Many arrive in Uganda, malnourished and weak from days of trekking.
Moses Rem fled from Yei after his brother was killed. He managed to escape with his family as well as his brother's three children.
"On the way, we were eating okra leaves. These are the things that made these children suffer these two days. Some of them did not have enough power for moving that is why I will carry them on the wheel of the bicycle and push them," said Remo.
The refugees are now on their way to Mvepi settlement where they will be registered and settled.
Uganda has a liberal refugee policy that maintains open borders and allocates land plots to individual refugee families. The country is expecting to host an additional 400,000 refugees this year.
Source: Channelstv
South Sudan Crisis Forcing Teenagers Into Parental Roles – UNICEF